Su-15 Flagon-A
The Sukhoi Su-15 Flagon all-weather interceptor was withdrawn from Russian service about 1992. Although the aircraft was built in the 1950s, it remained a formidable aircraft with several upgrades, and was built in large numbers. Its speed is in excess of Mach 2.4 and carries large missiles on the outboard portion of the wings. The aircraft's wings are mid-mounted delta with square tips. There are two turbojets in the fuselage and two exhausts. The fuselage is rectangular from the air intakes to the tail. The nose is bullet-shaped nose and has a bubble canopy. The tail is sweptback and has a tapered fin with a square tip. The flats are swept-back, tapered, and mid-mounted on the fuselage.
MARKETPLACE
This site contains affiliate links to products. We may receive a commission for purchases made through these links.
TRUMPETER 1/72 Sukhoi Su-15 Flagon A #1624 #01624 *Sealed*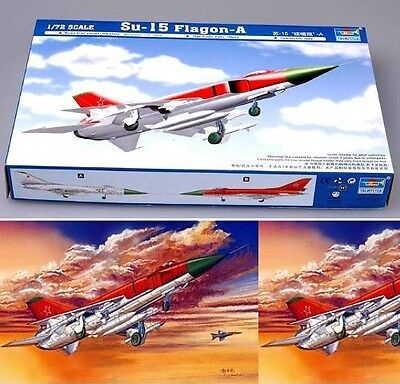 See on Ebay »
Shipping to: Worldwide
From: US-East Brunswick,NJ,USA
Store: Scaled Models Priority

Time Left: 19 days 19 h 4 m 34 s
Trumpeter Models 01624 1:72 Su-15 Flagon-A Model Airplane Kit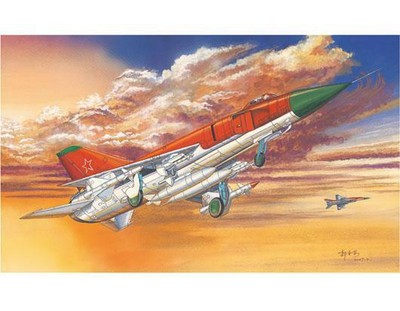 See on Ebay »
Shipping to: Worldwide
From: US-Buford,GA,USA
Store: Trainz

Time Left: 24 days 5 h 39 m 22 s
Trumpeter 1:72 Su-15 Flagon-A #01624 NIB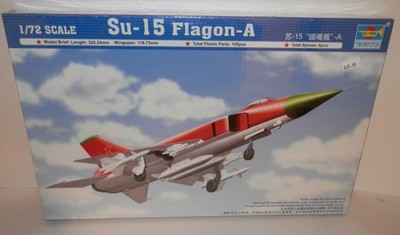 See on Ebay »
Shipping to: Worldwide
From: US-Port Charlotte,FL,USA
Store: K&KTRAINSLLC

Time Left: 6 days 6 h 39 m 23 s
KNL® Trumpeter 1/72 Su -15 "small mouth bottle" -A 01624
Ships from and sold by BJK Direct.