Spitfire Mk.22 1/72
Spitfire Mk.22 1/72 The final production versions of the Spitfire beginning with the Mk.21 were powered by R&R Griffon Mk.61 engines and featured a new and redesigned wing with the armament consisting of four cannon. As this new versions of the venerable Spitfire fighter was almost a complete new design, also a new name for the design had been considered, this being the Victor. The first of these new Spitfire versions went to service just in time to see the combat before the war's end, the later versions the Mk.22 and Mk.24 entered the service after the war. Both these versions differed from the Mk.21 in having lower rear section of the fuselage, bubble-type canopy and a new empennage (originally designed for the Spiteful).
The Mk.22 Spitfire production gave 287 machines which, save for one RAF unit, were solely used by RAuxAF squadrons stationed on the British Islands. By the end of 1955 they were regarded obsolete and put out of service. Some of the airframes were overhauled and sold to air forces of South Rhodesia, Syria and Egypt.
The Hi tech release of this wonderful aircraft brings the modeller four sprues with nicely detailed styrene parts, one clear sprue and a decal sheet. What justifies the Hi-tech label for this model kit is the addition of a set of photo-etched parts and 3D-designed resin exhaust and undercarriage wheels. The decal sheet offers the choice of four RAuxAF machines, two of which were camouflaged (one bearing racing numbers), the other two in natural metal or aluminium finish. There are also two foreign air force Spitfires, light-grey camouflaged Spitfire Mk.22 in service with the air force of South Rhodesia and aluminium colour finished Mk.22 of the Egyptian Air Force.
MARKETPLACE
This site contains affiliate links to products. We may receive a commission for purchases made through these links.
SPECIAL HOBBY 1/72 SUPERMARINE SPITFIRE MK 22 AIRCRAFT | 72127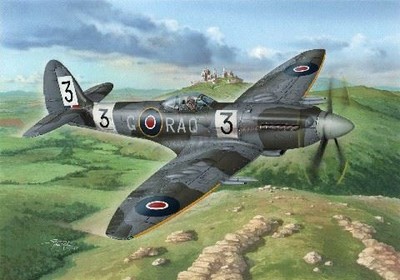 See on Ebay »
Shipping to: Worldwide
From: US-Scottsdale,AZ,USA
Store: Black Forest Hobby
SPECIAL HOBBY 1/72 Supermarine Spitfire Mk 22 Aircraft SHY72127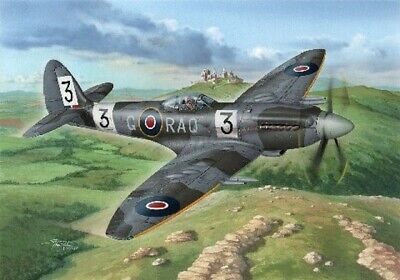 See on Ebay »
Shipping to: Worldwide
From: US-Columbia,MD,USA
Store: hobby-usa
Supermarin Spitfire Mk.22 "HI-TECH" 72127 Airplane Special Hobby 1:72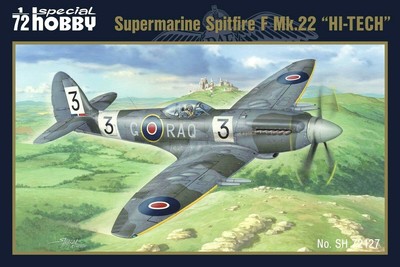 See on Ebay »
Shipping to: Worldwide
From: EE-Estonia
Store: hobby-4-you
SPH72127 1:72 Special Hobby Supermarine Spitfire F Mk.22 "Hi-Tech" [MODEL BUILDING KIT]
$26.99 & FREE Shipping
Check on Amazon for more details.