This site contains affiliate links to products. We may receive a commission for purchases made through these links.
U-28A Pilatus (ISR version)
The U-28A is a light aircraft operated by the 34th, 318th and 319th Special Operations Squadrons of United States Air Force Special Operations Command (AFSOC). It is part of AFSOC's Non-standard Aircraft fleet. The aircraft type is also flown by the 919th Special Operations Wing, Air Force Reserve Command.The U-28A is a militarized version of the commerically-available Pilatus PC-12. It has been fitted with advanced sensors, navigation gear, survivability aids and communications equipment to enable its special operations role.One of the U-28A roles is the insertion, extraction and resupply of Special Operations Forces (SOF). The single-engine U-28A is small enough to land on small grass or dirt airstrips. It can carry 10 passengers or 3,000lbs of cargo and can operate from the type of short, unimproved airstrip that a larger plane, such as the C-130 Hercules, would be too big and heavy for.Another role of the U-28A is to act as a tactical airborne intelligence, surveillance, and reconnaissance (ISR) platform in support SOF on the ground. Sensors aboard the U-28A include a day variable-aperture TV camera, a variable aperture infrared camera and synthetic aperture radar.Communications systems aboard the U-28A have the capability to relay full motion video, voice and data over secure data links.Other additions to the basic PC-12 airframe include aircraft survivability equipment i.e. threat detection and counter measures.
SOVA-M - 72016 - U-28A Pilatus (ISR version) for sale in Ebay:
3 results, showing 3.
*Note that box can be different depend on the year of production, some times wrong products appear in the results, be aware.
IMPORTANT: Note that all the responsibility about the items are of the seller, we provide results from Ebay sellers, but we don't directly sold anything. Ebay and Paypal protect you against fraudulent sellers. We try to make our provided results as much accurate as we can, but second hand sets, incomplete sets, or different sets can be listed here, so check the product in Ebay prior to purchase, ask the seller if you have any doubt, and don't buy if you haven't 100% confidence.
1:72 Sova-M #72016 U-28A Pilatus, ISR version - USA & Finland AF NEW !!!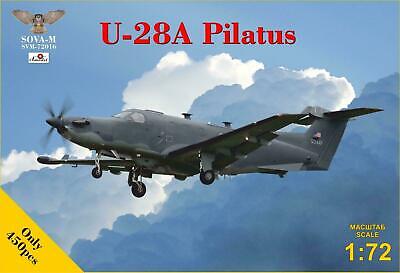 See on Ebay »
Shipping to: Worldwide
From: LV-Latvia
Store: hobbymodels lv

Time Left: 13 days 8 h 27 m 33 s
1/72 U-28A Pilatus (SOVA-M 72016)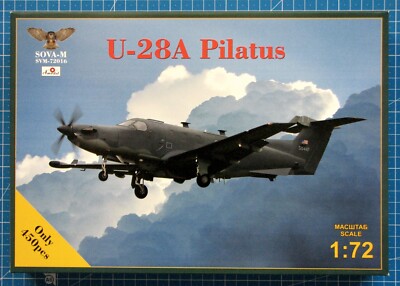 See on Ebay »
Shipping to: Worldwide
From: UA-Ukraine
Store: UA-Hobby
SOVA-M 72016 U-28A Pilatus (ISR version) scale plastic model kit 1/72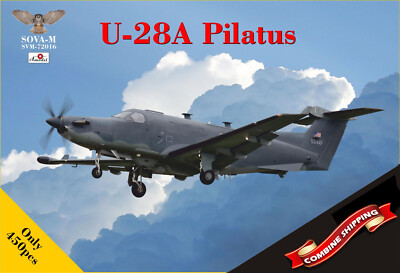 See on Ebay »
Shipping to: Worldwide
From: UA-Ukraine
Store: eugene_lemeshko

Time Left: 6 days 18 h 11 m 19 s