IAR-81C
Expansion of the operational versatility of the basic I.A.R.80 design to embrace the fighter-bomber and dive bomber tasks resulted in the I.A.R.81, which was to fly its first operational sorties in the Ukraine on 15 October 1941. The 25th production I.A.R.80A was taken from the line to serve as a prototype, fitted with two wing racks for 50kg bombs and a ventral crutch for a 225kg bomb. Introduction of the crutch dictated modifications to the main undercarriage members and an automatic flap actuating device was introduced. The dual fighter-bomber and dive bomber version became known as the BoPi, an acronym for Bombardier in Picaj, or dive bomber. The I.A.R.81 retained the sextet of 7.92mm FN-Browning guns and could carry three 100kg bombs, or one 225kg and two 50kg bombs. Fifty I.A.R.81s were followed by a batch of 10 I.A.R.81As, which, like the final 10 I.A.R.81s, had an armament of two 13.2mm and four 7.92mm guns, and these proved to be the last of the BoPi aircraft. The next production version, the I.A.R.81C, was a pure fighter and was to be built in larger numbers than any I. A.R. 80 variant. Essentially similar to the I.A.R.80C apart from having the Ikaria cannon replaced by the superior Mauser MG 151 and retaining only two 7.92mm guns, the I.A.R.81C was, like other versions of the I.A.R.81, powered by the I.A.R.-K 14-1000A engine. A total of 161 I.A.R.81Cs was built by late 1943 when licence manufacture of the Bf 109G-6 took over.
MARKETPLACE
This site contains affiliate links to products. We may receive a commission for purchases made through these links.
SOVA-M Models 1/72 IAR-81C Romanian WWII Fighter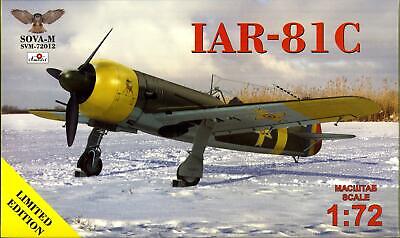 See on Ebay »
Shipping to: Worldwide
From: US-USA
Store: SCOTT'S MODEL WORKSHOP
SOVA-M 72012 Fighter IAR-81C (4x camo) Limited Edition - 4 marking variants 1/72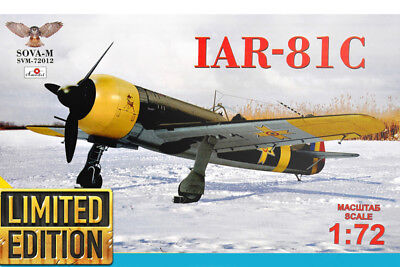 See on Ebay »
Shipping to: Worldwide
From: UA-Ukraine
Store: eugene_lemeshko
*Information on price and shipping may have changed since our last update as well as other conditions can apply.
Check on partner site before buy.
Amazon and the Amazon logo are trademarks of Amazon.com, Inc. or its affiliates.