This site contains affiliate links to products. We may receive a commission for purchases made through these links.
Breakout From Normandy
These MPC playset combine several Airfix items of the time, as for example Waterloo Le Haye farm, a German 88mm FLAK + Sdkfz. 7 tractor, White Half-track M3A1 and the classic Airfix WWII British Paratroops but named as U.S paratroops.
These kits are very hard to find, specially on good conditions, and you can expect high prices for them.
We are adding this entry just for collectors purposes.
MPC (Super Historama) - 8052 - Breakout From Normandy for sale in Ebay:
2 results, showing 2.
*Note that box can be different depend on the year of production, some times wrong products appear in the results, be aware.
IMPORTANT: Note that all the responsibility about the items are of the seller, we provide results from Ebay sellers, but we don't directly sold anything. Ebay and Paypal protect you against fraudulent sellers. We try to make our provided results as much accurate as we can, but second hand sets, incomplete sets, or different sets can be listed here, so check the product in Ebay prior to purchase, ask the seller if you have any doubt, and don't buy if you haven't 100% confidence.
MPC Breakout from Normandy Plastic Model Kit 1/72 Scale Open Box Free USA Ship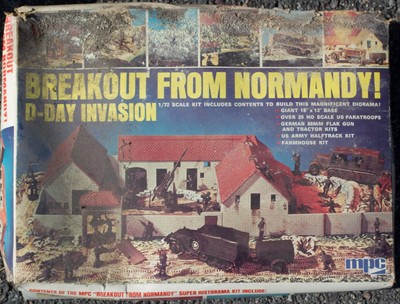 See on Ebay »
Shipping to: Worldwide
From: US-Brockton,MA,USA
Store: SHOE CITY CHAMPIONS

Time Left: 16 days 3 h 12 m 52 s
MPC Breakout From Normandy Super Historama D-Day Invasion Model Kit Complete?
See on Ebay »
Shipping to: Worldwide
From: US-Novelty,OH,USA