German Sprengboot TORNADO
In 1944, engineer Luftwaffe Grohalsky offered command Kleinkampfmittel Verband (Compound small warships or Compound C). The boat had to be made of already developed aviation industry components and assemblies.
The boat was a catamaran made ??up of seaplane floats Ju-52T. Between floats, on racks, pylons installed pulsating jet engine Argus As 109-014 aircraft from the projectile (cruise missile) V-1. With such a propulsion motor would reach a maximum speed of 48 knots. Explosive charge, weighing 700 kg was in the floats. Tactics of the repeated tactics exploding boats Linse – to move to the target boat was controlled by the pilot, when the visual target is detected the pilot left the boat, pointing to the purpose of which was carried out on the radio, from a boat control, which also picked up the pilot boat shock.
Test models and full-scale construction of the prototype led to Travemünde. The results were promising, but only in calm water. Boat a top speed of 35 knots, but the excitement sought to overturn. This, and the lack of engines led to the halt of the project. The prototype was blown up at the end of the war.
MARKETPLACE
This site contains affiliate links to products. We may receive a commission for purchases made through these links.
Mikro Mir 35-010 - German Sprengboot " Tornado " - 1/35 Scale Model Kit
See on Ebay »
Shipping to: Worldwide
From: UA-Ukraine
Store: Hobby Jar Super Store
Mikro Mir 72-003 German sprengboot " Tornado " boat 1/72 Scale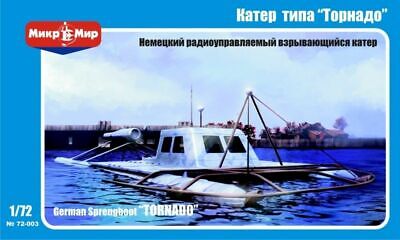 See on Ebay »
Shipping to: Worldwide
From: UA-Ukraine
Store: vladbush63
MikroMir 72-003 - German sprengboot " Tornado " boat - 1/72 Scale Model Kit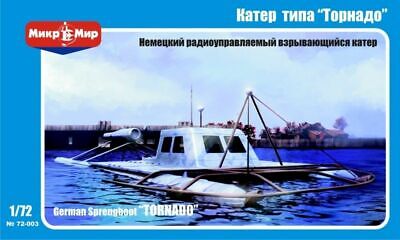 See on Ebay »
Shipping to: Worldwide
From: UA-Ukraine
Store: Hobby Jar Super Store