F-4M PHANTOM FG.1
Developed by the American aircraft company McDonnell Douglas, the F-4 Phantom II is a tandem two-seat, all-weather, supersonic fighter-bomber. It entered service during the 1960's and is one of the most notable aircraft in military aviation history. Beginning in the '60s and continuing into the 80's, it was widely used in the United Kingdom by both the Royal Navy and the Royal Air Force. It was deployed in many role specific versions including air defense, close support, ground attack and also reconnaissance tasks. The Royal Navy first used the Phantom in 1964 to replace the obsolete Sea Vixen. Its primary role was to ensure the UK fleet's air defense from aerial threats, with the added capability of operating from the decks of the British carriers. Very similar to those versions produced in the USA, the UK Phantom FG.1's and FGR.2's were characterized by the adoption of Rolls-Royce turbojet engines instead of the American GE J-79 engine.
MARKETPLACE
This site contains affiliate links to products. We may receive a commission for purchases made through these links.
Italeri 1:72 Scale F-4 Phantom FG.1 Plastic Model Kit 1434 ITA1434

See on Ebay »
Shipping to: Worldwide
From: US-Saint Charles,MO,USA
Store: Mark Twain Hobby Center
Italeri 1434 1/72 F-4M Phantom FG.1 Sealed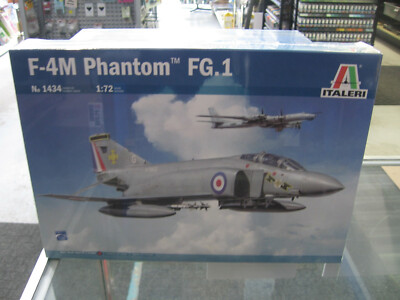 See on Ebay »
Shipping to: Worldwide
From: CA-Canada
Store: The Hobby Centre
ITALERI 1434 PHANTOM FG.1 MODEL KIT-NIB-1:72 SCALE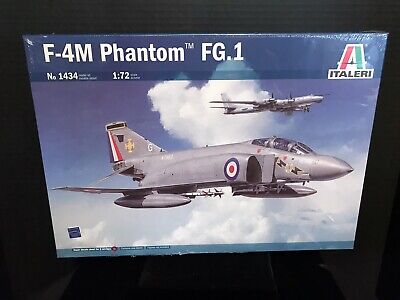 See on Ebay »
Shipping to: Worldwide
From: US-Falling Waters,WV,USA
Italeri ITA1434 1:72 F-4M Phantom FG.1 [Model Building KIT]
$39.95 & FREE Shipping. Details
Check on Amazon for more details.