This site contains affiliate links to products. We may receive a commission for purchases made through these links.
AB 412 ARMA DEI CARABINIERI
The AB 412 is a medium twin-engine helicopter manufactured by Agusta Westland under license from Bell Helicopter. Directly derived from the Bell 212, it is characterized by the adoption of the composite four-blade main rotor. The AB 412 rapidly became a commercial success and nowadays it is used to perform  either civil or military duties. Military versions are used for the transport of troops, up to 14 soldiers on board, or for the medical evacuation (Medevac) through the possibility of carrying up to six stretchers. The AB 412, thanks to its extraordinary flexibility, can be used in operations of environmental protection, firefighting tasks, and in search and rescue duties.  The AB 412 is also used by the following Italian Corps : Carabinieri, Guardia di Finanza and Vigili del Fuoco.
Italeri - 1361 - AB 412 ARMA DEI CARABINIERI for sale in Ebay:
1 results, showing 1.
*Note that box can be different depend on the year of production, some times wrong products appear in the results, be aware.
IMPORTANT: Note that all the responsibility about the items are of the seller, we provide results from Ebay sellers, but we don't directly sold anything. Ebay and Paypal protect you against fraudulent sellers. We try to make our provided results as much accurate as we can, but second hand sets, incomplete sets, or different sets can be listed here, so check the product in Ebay prior to purchase, ask the seller if you have any doubt, and don't buy if you haven't 100% confidence.
ITALERI AB-412 ARMA DEI CARABINIERI 1-72 COD. 1361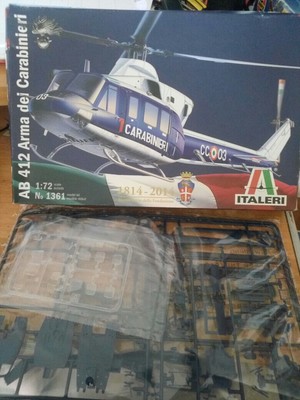 See on Ebay »
Shipping to: Worldwide
From: IT-Italy

Time Left: 19 days 19 h 3 m 4 s