This site contains affiliate links to products. We may receive a commission for purchases made through these links.
DC-3 Swissair
The twin-engine DC-3, developed by Douglas Aircraft Company, during the
mid-30s, can be defined as a real milestone in the history of civil aviation.
Its low-wing configuration, the good engines and the excellent performance
makes it one of the most significant transport aircraft ever made and a real
revolution in the airline industry. In the civil aviation, a lot of commercial
operators and airlines used the American twin-engine to perform short and
medium range routes. For instance, Swissair, the national airline of
Switzerland, employed in the late '40s and in the '50s, the Dakota. Very soon the
aircraft has been appreciate for the high reliability, the low running costs
and the good loading capacity.
Italeri - 1349 - DC-3 Swissair for sale in Ebay:
2 results, showing 2.
*Note that box can be different depend on the year of production, some times wrong products appear in the results, be aware.
IMPORTANT: Note that all the responsibility about the items are of the seller, we provide results from Ebay sellers, but we don't directly sold anything. Ebay and Paypal protect you against fraudulent sellers. We try to make our provided results as much accurate as we can, but second hand sets, incomplete sets, or different sets can be listed here, so check the product in Ebay prior to purchase, ask the seller if you have any doubt, and don't buy if you haven't 100% confidence.
Italeri 1/72 DC-3 Swissair model kit. new.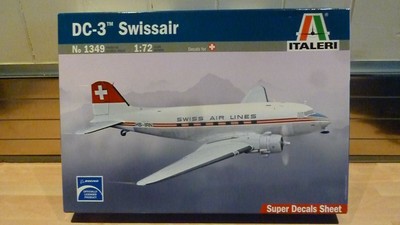 See on Ebay »
Shipping to: Worldwide
From: GB-United Kingdom

Time Left: 3 days 8 h 57 m 43 s
DC-3 SWISSAIR - 1/72 - ITALERI 1349 (1130)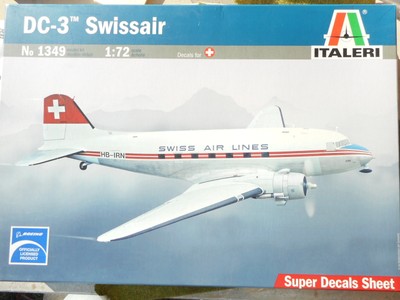 See on Ebay »
Shipping to: Worldwide
From: IT-Italy
Store: masterkitmodels

Time Left: 5 days 9 h 48 m 30 s