This site contains affiliate links to products. We may receive a commission for purchases made through these links.
FRS.1 SEA HARRIER
The Sea Harrier, designed for the British Royal Navy, is an evolution of the Harrier fighter-bomber conceived for the RAF that came into service in the 1970s. The first aircraft with vertical take-off/landing capability, it can operate even where there is little room for manoeuvre and is thus ideal for close troop support. The Sea Harrier is also an excellent dogfighter as seen during the Falklands conflict where this unusual plane scored numerous victories against the Argentine air force.
Italeri - 1236 - FRS.1 SEA HARRIER for sale in Ebay:
3 results, showing 3.
*Note that box can be different depend on the year of production, some times wrong products appear in the results, be aware.
IMPORTANT: Note that all the responsibility about the items are of the seller, we provide results from Ebay sellers, but we don't directly sold anything. Ebay and Paypal protect you against fraudulent sellers. We try to make our provided results as much accurate as we can, but second hand sets, incomplete sets, or different sets can be listed here, so check the product in Ebay prior to purchase, ask the seller if you have any doubt, and don't buy if you haven't 100% confidence.
Italeri 1/72 FRS.1 Sea Harrier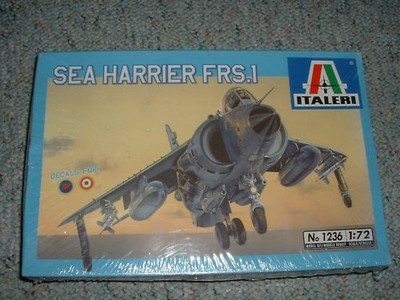 See on Ebay »
Shipping to: Worldwide
From: US-New York,NY,USA
Store: Toy Soldiers ho 1/72 1/32 1/35 1/76
1:72 SCALE INJECTION MOLDED SEA HARRIER FRS-1 by ITALERI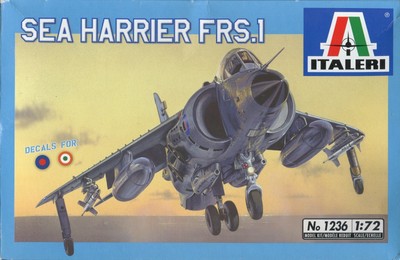 See on Ebay »
Shipping to: Worldwide
From: CA-Canada

Time Left: 11 days 9 h 59 m 55 s
Italeri 1/72 Sea Harrier FRS-1 Royal Navy Model Kit # 1236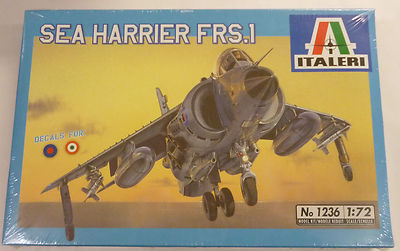 See on Ebay »
Shipping to: Worldwide
From: US-Staunton,VA,USA
Store: Jack's Model Kits

Time Left: 18 days 8 h 30 m 57 s