This site contains affiliate links to products. We may receive a commission for purchases made through these links.
C-119C FLYING BOXCAR
Developed by Fairchild from the previous C-82 Packet, the C-119 was one of the most important transport planes of the Fifties. The C-119C model had two 28 cylinder Pratt&Whitney four row radial R-4360 engines and it was distinguished from later types partly by its single wheel front undercarriage and different tail design. Production of the C-119C was speeded up when the Korean War broke out and these planes were soon being used for most of its transport missions. At the end of the war, a large number of the planes were supplied to the French, who used them widely in Indochina. Another less well-known but equally important role they played was to transport material for the construction of the DEW line radar stations in the far north of the American continent. Many examples of the C-119C were subsequently updated to meet the standards of later models.
Italeri - 1146 - C-119C FLYING BOXCAR for sale in Ebay:
3 results, showing 3.
*Note that box can be different depend on the year of production, some times wrong products appear in the results, be aware.
IMPORTANT: Note that all the responsibility about the items are of the seller, we provide results from Ebay sellers, but we don't directly sold anything. Ebay and Paypal protect you against fraudulent sellers. We try to make our provided results as much accurate as we can, but second hand sets, incomplete sets, or different sets can be listed here, so check the product in Ebay prior to purchase, ask the seller if you have any doubt, and don't buy if you haven't 100% confidence.
Italeri 1:72 C-119 C Flying Boxcar w/ WC-51 Light Truck Plastic Model Kit #1146U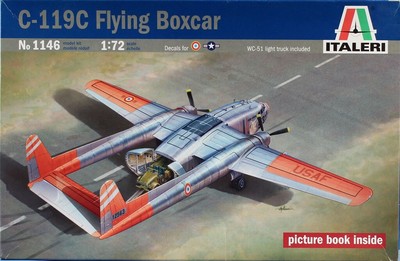 See on Ebay »
Shipping to: Worldwide
From: US-Wentzville,MO,USA
Store: LotsofModels

Time Left: 27 days 6 h 5 m 14 s
ITALERI 1146 - Fairchild C-119C Flying Boxcar - 1:72 -Flugzeug Modellbausatz Kit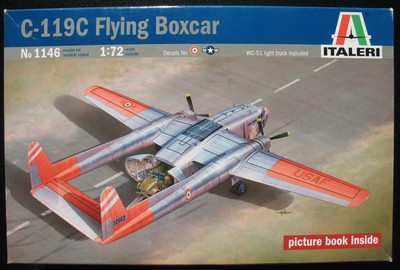 See on Ebay »
Shipping to: Worldwide
From: DE-Germany
Store: sammlertraeume24

Time Left: 25 days 1 h 22 m 39 s
Italeri 1:72 C-119C Flying Boxcar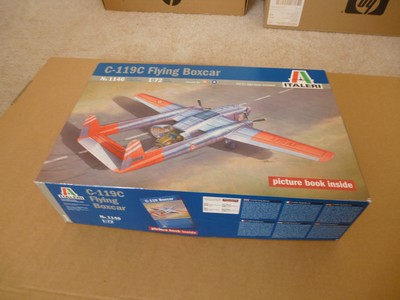 See on Ebay »
Shipping to: Worldwide
From: GB-United Kingdom

Time Left: 4 days 4 h 21 m 4 s