I-15 bis (winter version)
WWII Soviet Fighter-Biplane (winter version)
The improved version of I-15 fighter was the I-15bis. Its main differences were "normal" wing centre section and NACA type engine cowling. Serial production of I-15bis began in 1937 and continued to 1939. I-15bis were supplied to Spanish Republic (there they became nicknamed "Super Chatos") and China. These fighters took part in air battles over Khalhin-Gol River, during Soviet-Finnish war (1939-1940). In the early stage of war in the Soviet-German front I-15bis biplanes were obsolete but used as fighters and ground attack aircraft.
MARKETPLACE
This site contains affiliate links to products. We may receive a commission for purchases made through these links.
ICM 72013 I-15 BIS 1930 Soviet Fighter (Winter Version) 1/72 scale plastic model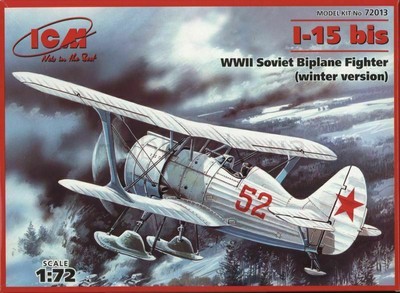 See on Ebay »
Shipping to: Worldwide
From: UA-Ukraine
Store: vladbush63
I-15 bis (winter version) 1/72 ICM 72013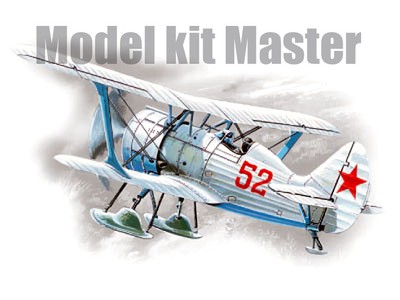 See on Ebay »
Shipping to: Worldwide
From: CA-Canada
Store: Model-Kit-Master
ICM 72013 - 1/72 I-15 BIS 1930 Soviet Fighter (Winter Version), scale model kit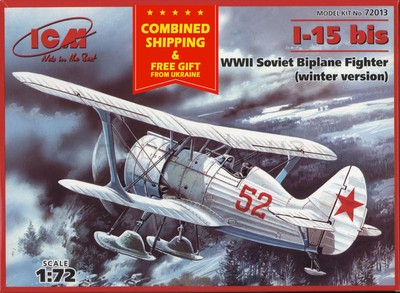 See on Ebay »
Shipping to: Worldwide
From: UA-Ukraine
Store: scalemodelkits
Soviet Fighter I-15 bis (winter version) 1/72 ICM 72013
9.95 +8.90USD
Shipped by Plastic Models Store, from $8.90, free over $150 orders
Temporarily out of Stock