PZL 23A Karaś Polish Light Bomber
PZL.23 Karaś was a Polish light bomber and a reconnaissance aircraft. Serial production of the A version started in 1936 with a total of 40 planes constructed. B variant, with a different engine, was being produced between 1936 and 1938, with 240 machines finished. Polish Aircraft bomber and reconnaissance squadrons received the PZL.23B planes, while the A variant machines were moved to aviation schools. Karaś was the main Polish bomber plane used during the September 1939 German invasion of Poland. PZL.42 was an attempt on creating a modernized replacement for the PZL.23 aircraft. Only one prototype was built in 1936.
MARKETPLACE
This site contains affiliate links to products. We may receive a commission for purchases made through these links.
IBG 1/72 72505 PZL 23A Karaś Polish Light Bomber (Ships from Canada!)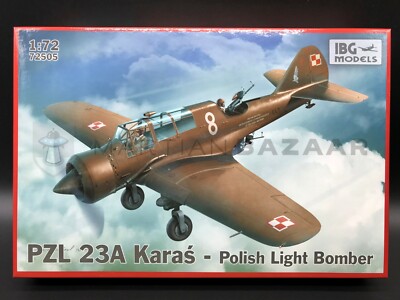 See on Ebay »
Shipping to: Worldwide
From: CA-Canada
Store: Martian Bazaar

Time Left: 6 days 11 h 28 m 6 s
1/72 IBG 72505 PZL 23A Karaś Polish Light Bomber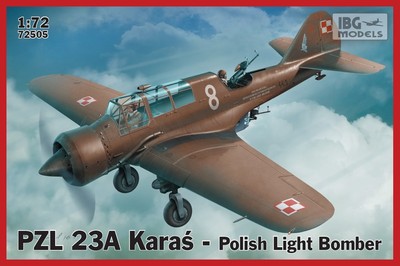 See on Ebay »
Shipping to: Worldwide
From: PL-Poland
Store: Quickwheel and BitsKrieg hobby shop

Time Left: 21 days 19 h 3 m 42 s
PZL 23 A KARAS LIGHT BOMBER (POLISH AF MARKINGS 1939) #505 1/72 IBG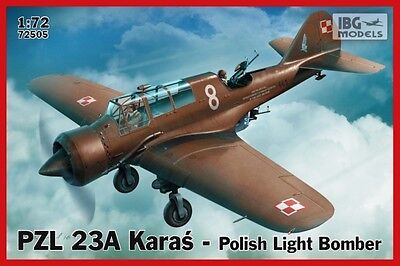 See on Ebay »
Shipping to: Worldwide
From: PL-Poland
Store: accurahobbykits

Time Left: 23 days 38 m 9 s