This site contains affiliate links to products. We may receive a commission for purchases made through these links.
A-4F Sky Hawk
The A-4 Skyhawk was designed by Douglas in response to a U.S. Navy call for a jet-powered attack aircraft to replace the older A-1 Skyraider. Douglas opted for a design that would minimize its size, weight, and complexity. The result was an aircraft that weighed only half of the Navy's weight specification. It had a wing so compact that it did not need to be folded for carrier stowage.
     A-4F refinement of A-4E with extra avionics housed in a hump on the fuselage spine (this feature later retrofitted to A-4Es and some A-4Cs) and more powerful J52-P-8Aengine with 9,300 lbf (41 kN) of thrust, later upgraded in service to J52-P-408 with 11,200 lbf (50 kN), 147 built. Some served with Blue Angels acrobatic team from 1973 to 1986.
Hobby Boss - 87255 - A-4F Sky Hawk for sale in Ebay:
2 results, showing 2.
*Note that box can be different depend on the year of production, some times wrong products appear in the results, be aware.
IMPORTANT: Note that all the responsibility about the items are of the seller, we provide results from Ebay sellers, but we don't directly sold anything. Ebay and Paypal protect you against fraudulent sellers. We try to make our provided results as much accurate as we can, but second hand sets, incomplete sets, or different sets can be listed here, so check the product in Ebay prior to purchase, ask the seller if you have any doubt, and don't buy if you haven't 100% confidence.
Hobby Boss *HobbyBoss* 1/72 A-4F Skyhawk #87255 *New release*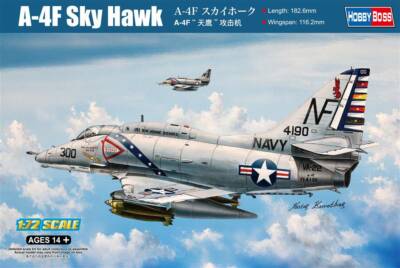 See on Ebay »
Shipping to: Worldwide
From: US-East Brunswick,NJ,USA
Store: Scaled Models Priority

Time Left: 22 days 18 h 2 m 53 s
Hobby Boss: A-4F Sky Hawk in 1:72 [3487255]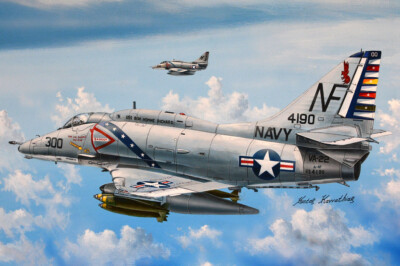 See on Ebay »
Shipping to: Worldwide
From: IT-Italy
Store: FM-64 Static Model

Time Left: 17 days 1 h 48 m 32 s