This site contains affiliate links to products. We may receive a commission for purchases made through these links.
D.520
 The D520 was a French fighter aircraft that entered service in early 1940, shortly after the start of WWII. It was the best French fighter of the war. The first prototype D520 flew in October 1938. After seizing the non-occupied part of France in November 1942, the Germans captured 246 D520C1 fighters, but only 182 of them were airworthy. Repainted and re-equipped they served the Luftwaffe as operational training aircraft. Some of these captured planes were sold to German Allies, some destroyed during the French Campaign in 1944 or recaptured by Free French pilots and the French Resistance.
Hobby Boss - 80237 - D.520 for sale in Ebay:
1 results, showing 1.
*Note that box can be different depend on the year of production, some times wrong products appear in the results, be aware.
IMPORTANT: Note that all the responsibility about the items are of the seller, we provide results from Ebay sellers, but we don't directly sold anything. Ebay and Paypal protect you against fraudulent sellers. We try to make our provided results as much accurate as we can, but second hand sets, incomplete sets, or different sets can be listed here, so check the product in Ebay prior to purchase, ask the seller if you have any doubt, and don't buy if you haven't 100% confidence.
Hobby Boss D.520 Fighter Airplane Model Building Kit, 1/72 Scale 80237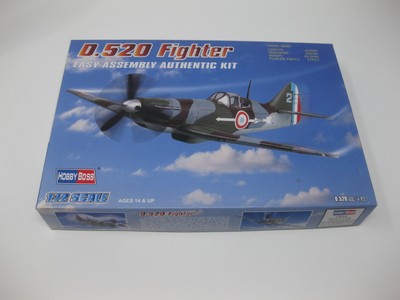 See on Ebay »
Shipping to: Worldwide
From: US-Greenville,SC,USA
Store: cmosfmsgamesandcollectibles

Time Left: 28 days 20 h 23 m 41 s