IL-102 Experimental ground-attack aircraft
In 1967, the Soviet Air Forces drew up a specification for a jet-powered shturmovik or armoured ground attack aircraft. While Sukhoi designed an all-new single seat aircraft, the Su-25, Ilyushin proposed a modified version of their Il-40 of 1953 under the designation Il-42, which, unlike the Sukhoi, was a two-seat aircraft with a remotely-controlled rear gun turret. The design was rejected by the Soviet Air Forces, but Ilyushin decided to continue development as a private venture, renaming the programme Il-102.[1]
The Il-102 first prototype flew on 25 September 1982, with a second airframe built for static tests, and carried out 250 test flights until it was grounded in 1984 when the engine life expired.[2]The tail turret of the Il-102, armed with a GSh-23L twin-barreled cannonThe Il-102 was a low-winged monoplane with moderately swept (30 degrees) wings, powered by two Klimov RD-33I turbofans (non-afterburning versions of the engines that power the Mikoyan MiG-29 fighter). It was highly unusual for its time in having a rear gun turret, something not seen in ground-attack aircraft since the World War II Il-2 Shturmovik and Il-10, the Il-102's spiritual ancestors, controlled remotely by a gunner sitting in a cockpit above the trailing edge of the wing. The crew cockpits, engines and fuel tanks were armoured to protect against ground fire.Although development was abandoned in 1984, the prototype Il-102 was publicly unveiled at the 1992 Mosaeroshow air show at Zhukovsky, being claimed to be available for export.[3] As of 2005, the prototype was mounted on a pedestal and placed on display at the Gromov Flight Research Institute.
MARKETPLACE
This site contains affiliate links to products. We may receive a commission for purchases made through these links.
A&A Models AAM7211 - 1/72 – IL-102 Experimental ground-attack aircraft model kit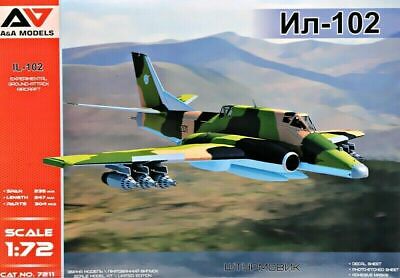 See on Ebay »
Shipping to: Worldwide
From: UA-Ukraine
Store: scalemodelkits

Time Left: 20 days 22 h 40 m 22 s
A&A Models 7211 1:72nd scale IL-102 Ground Attack Aircraft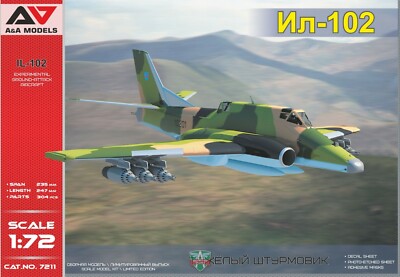 See on Ebay »
Shipping to: Worldwide
From: GB-United Kingdom
Store: Dave Coley's Emporium

Time Left: 1 day 17 h 24 m 53 s
A & A Models 1/72 Ilyushin Il-102 Experimental Ground-Attack Aircraft # 7211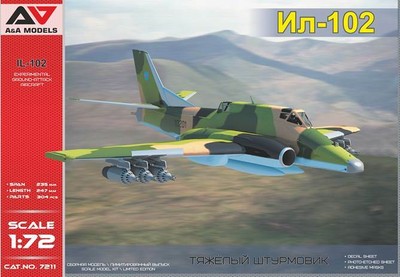 See on Ebay »
Shipping to: Worldwide
From: GB-United Kingdom
Store: Model Hobbies Limited

Time Left: 22 days 21 h 32 m 56 s