MBV-2 with 76,2-mm tank guns L-11
Motorized armored railcarMBV-2 was manufactured in the USSR in 1937 at the Leningrad Kirov Plant with use of units and aggregates as well as gun turrets of the T-28 medium tank. Motor armored carwas completely armored motor car with mixed armament.
Turrets had an elliptic form with a rear recess. In roofs there were two hatches – the round hatch of the gunner with mounting for an antiaircraft mount ring and the rectangular hatch of the commander of a turret. 76,2-mm guns were set in the front part of turrets, separate spherical mantlets of the DT machine guns were placed to the right of them. After 1938 instead of KT-28 guns MBV-2 has been rearmed with the new 76,2-mm guns L-11, mounted in masks of T-28 turrets. MBV-2 was also armed with 10 machine guns: four 7,62-mm machine guns "Maxim" in spherical mantlets (two from each board) and six 7,62-mm machine guns DT located in turrets and in hull. Antiaircraft arms of MBV were made by the M4 quadruple machine-gun mount sample of 1931 and 2-3 more DT machine guns, on P-40 antiaircraft mount rings on the roofs of gun turrets.
The engine of the T-28 tank – V-shaped M-17T of the 450-500 hp. MBV-2 transmission was also based on the T-28 units, considering the conditions of the forward-movement. Armored railcar was equipped with radio station 71-TK-2 and intercom SPU-7r.
MBV-2 took part in the Soviet-Finnish war in 1939. It has begun its participation In the Second World War in July, 1941. As a part of different armored divisions it had defended Leningrad till 1943 and in the same place several times undergoing repairs. On January 24, 1943 MBV-2 was included in 14 ODBP, it was assigned No. 684 and given the name "Stremitel'nyj" ("Swift"). In the summer of 1943 MBV-2 had been rearmed, replacing L-11 guns with 76 mm of tank's F-34, and after small modernization was again directed to the Leningrad front.
MARKETPLACE
This site contains affiliate links to products. We may receive a commission for purchases made through these links.
Motorized armored railcar MBV-2 with 76.2-mm tank guns L-II
See on Ebay »
Shipping to: Worldwide
From: UA-Ukraine
Store: UA_Model_Kits
UMMT 675 MBV-2 Motorized Armored Railcar with 76,2-mm Tank Guns L-11 Kit 1/72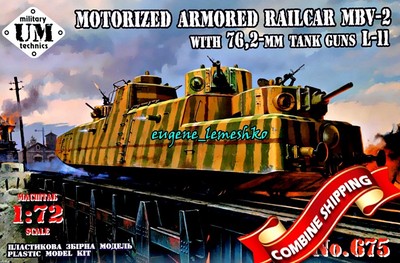 See on Ebay »
Shipping to: Worldwide
From: UA-Ukraine
Store: eugene_lemeshko
*Information on price and shipping may have changed since our last update as well as other conditions can apply.
Check on partner site before buy.
Amazon and the Amazon logo are trademarks of Amazon.com, Inc. or its affiliates.