Motorized armored railcar MBV
Motorized armored railcar MBV was developed and made in the USSR in Leningrad at Kirov Plant in 1935-36. MBV was an armored railcar with the M-17 engine and with the reverse gearbox providing forward-rearward movement.
Motorized armored railcarconsisted of the armored hull bonded with a frame, mounted on two carriages of railway type connected among themselves. One carriage was basic and another with mounted engine and transmission – leading. The armored hull welded of 10-20 mm armor (a forehead and commander's cabin – 20 mm, side -16 mm and roof – 10 mm).
Armament of MBV consisted of three turrets of the T-28 tank (76 mm KT-28 gun) set in front and middle part of the hull, 4 onboard "Maxim" machine guns (7.62 mm) in spherical mantlets, DT machine gun (7.62 mm) in a hull rear and quadruple antiaircraft machine-gun mount in a special section inside the hull with a possibility of moving out and firing against air targets through a flap lid. In the middle of the hull the commander's cabin equipped with a rotary range finder was located. MBV was also equipped with radio station 71-TK-2 and internal communications.
Tests of MBV showed good fighting and technical characteristics of this car and after removing of a number of shortcomings this motorized armored railcarwas passed into service to the Red Army. According to the plan had been going to make of 10 more MBV, however due to the lack of material and technical resources it was succeeded to construct in 1937-38 only one (MBV-2). Further both of these supertanks participated in World War II.
MARKETPLACE
This site contains affiliate links to products. We may receive a commission for purchases made through these links.
Motorized armored railcar MBV No01 << UMmt #673, 1:72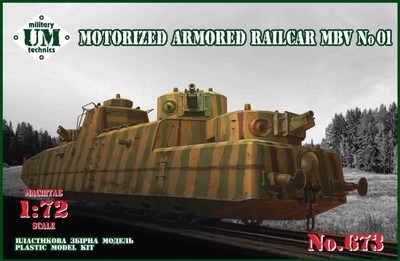 See on Ebay »
Shipping to: Worldwide
From: UA-Ukraine
Store: UA_Model_Kits
UM-MT 1/72 MBV No.01 Motorized Armored Railcar # 673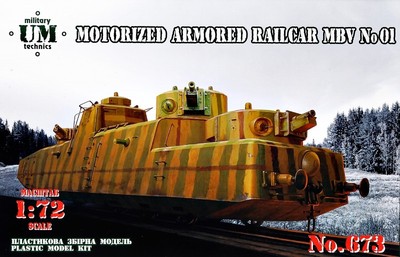 See on Ebay »
Shipping to: Worldwide
From: GB-United Kingdom
Store: Model Hobbies Limited
Motorized armored railcar MBV-2 with 76,2-mm tank guns << UMmt #677, 1:72 scale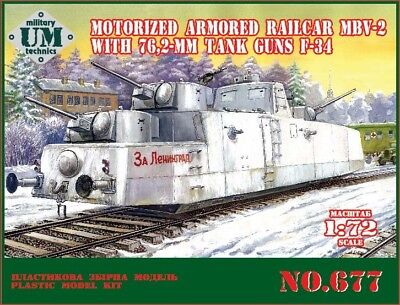 See on Ebay »
Shipping to: Worldwide
From: UA-Ukraine
Store: UA_Model_Kits