Armored car-carrier DTR (Podolsk machine building plant)
Armored car-carrier DTR-(riveted version), was developed in the USSR in 1934. DTR was designed to make a command and observation post for the units of armored trains, and also for reconnaissance and transportation by rail of wounded soldiers and special freights.
Armored car was built on the basis of the chassis of the motor car Kolomna. The riveted version of this machine, was made at Podolsk Machine-Building Plant. The hull, from 4-8 mm armored plates was fastened to the frame by bolts. Bent from plate armored turret with the machine gun "Maxim" was placed in the center of a roof. Besides, in each board of the hull there were two machine gun mounts DT, and DT by one was placed in front and rear sheets. For boarding and landing of crew there were 4 doors (by two on each side), for observation on the move, in the right board the small hatch was made, in the left there were blinds. Armored car was equipped with radio station 71-TK-1 antenna with the handle, and the mechanism for passing to the by-pass route. These vehicles participated in World War II at the Soviet-German front, and at least, two of them in the fields of summer 1941 have been captured by Wehrmacht. In Red Army at the beginning of war, DTR were available in 8'th, 9'th and 11'th armored divisions, and also in 60'th and 66'th regiments of the NKVD troops. The Wehrmacht used trophy DTR as a part of the armored train, PZ-10 (1942).
MARKETPLACE
This site contains affiliate links to products. We may receive a commission for purchases made through these links.
UMmt 1/72 669 WWII Soviet Armored Car-Carrier DTR Podolsk Machine-Building Plant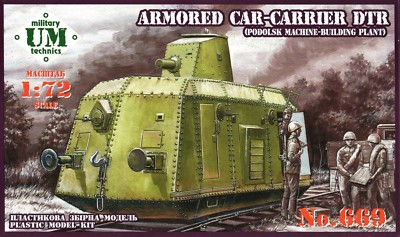 See on Ebay »
Shipping to: Worldwide
From: TW-Taiwan
Store: AlwaysModel
Armored car-carrier DTR, Podolsk machine-building plant << UMmt #669, 1:72 scale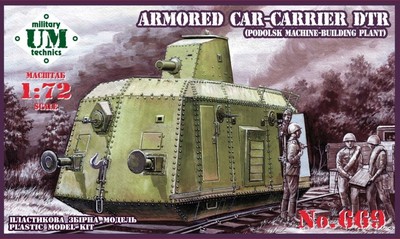 See on Ebay »
Shipping to: Worldwide
From: UA-Ukraine
Store: UA_Model_Kits
UM-MT 1/72 Armored Car-Carrier DTR (Podolsk Machine-Building Plant) # 669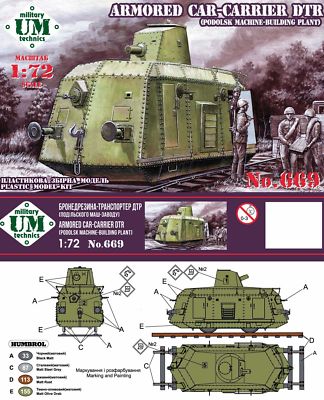 See on Ebay »
Shipping to: Worldwide
From: GB-United Kingdom
Store: Model Hobbies Limited