This site contains affiliate links to products. We may receive a commission for purchases made through these links.

7,5 cm German infantry gun IG 37
7,5 cm German infantry gun IG 37 (as 7,5 cm anti-tank PaK 37) was designed in 1943. These were light guns mounted on split-trail carriages. To create I.G.37 Germans used gun carriages of outdated 37-mm anti-tank guns (both own Pak 35/36, and trophy Soviet 1-K (3,7 cm Pak 158 (r)) were used). The barrel was taken from IG 42. The guns had the separate loading, close to the Soviet gun angle of vertical targeting and considerably bigger angle of horizontal targeting and were 200 — 300 kg easier than the Soviet ones.The gun could be used not only as the regimental cannon, but also as means of fight against tanks. The powerful anti-tank shell which pierced 85 mm armour at right angle was used. The first 84 guns were assembled in June, 1944. Totally there were made 1304 of such guns during the war.
UMMT - 664 - 7,5 cm German infantry gun IG 37 for sale in Ebay:
2 results, showing 2.
*Note that box can be different depend on the year of production, some times wrong products appear in the results, be aware.
IMPORTANT: Note that all the responsibility about the items are of the seller, we provide results from Ebay sellers, but we don't directly sold anything. Ebay and Paypal protect you against fraudulent sellers. We try to make our provided results as much accurate as we can, but second hand sets, incomplete sets, or different sets can be listed here, so check the product in Ebay prior to purchase, ask the seller if you have any doubt, and don't buy if you haven't 100% confidence.
75mm German infantry gun IG 37 << UMmt #664, 1:72 scale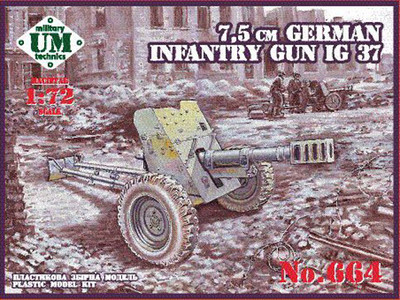 See on Ebay »
Shipping to: Worldwide
From: UA-Ukraine
Store: UA_Model_Kits

Time Left: 22 days 4 h 16 m 48 s
UM Military Technics 664 7,5 cm German infantry gun IG 37 1/72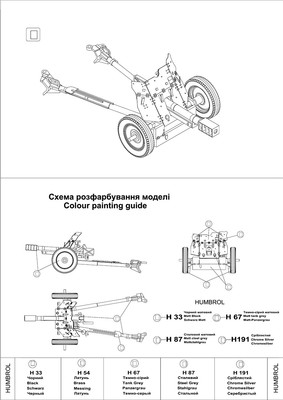 See on Ebay »
Shipping to: Worldwide
From: UA-Ukraine
Store: modEl-kits store

Time Left: 8 days 8 h 32 m 13 s