Artillery self-propelled mount A-39 (T-26 chassis)
In the world, in 20-30th, with the development of tank construction and improvement of battle tactics of tanks and tank divisions, had come a necessity in creation of self-propelled artillery based on the tank chassis.
In 1931 in the USSR for preparation and support of tank attack and for means of anti-tank artillery, was made a decision on development and production of self-propelled artillery (76 mm gun on the chassis of tank T-26). In 1932-33 a number of such SU-1, AT-1 projects were produced in single copies.
In 1933 in one of the special design bureaus for mechanized forces the self-propelled plant A-39 (T-26 chassis) was developed. Originality of the project was that 76 mm gun has been built in the rotating turret of a special construction (a prototype of the artillery tank). Owing to the objective and subjective reasons these weapons have not been launched in series, however experience of designing and testing of these samples, contributed to the further development and manufacture of serial samples of artillery tanks T-26-4 and BT-7A.
MARKETPLACE
This site contains affiliate links to products. We may receive a commission for purchases made through these links.
UMmt 1/72 660 WWII Soviet Artillery Self-Propelled Mount A-39 (T-26 Chassis)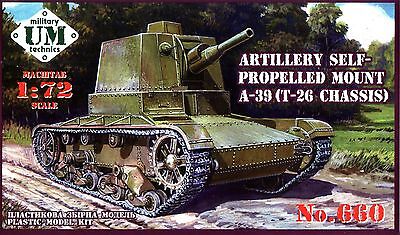 See on Ebay »
Shipping to: Worldwide
From: TW-Taiwan
Store: AlwaysModel
Artillery self-propelled mount A-39 (T-26 chassis) << UMmt #660, 1:72 scale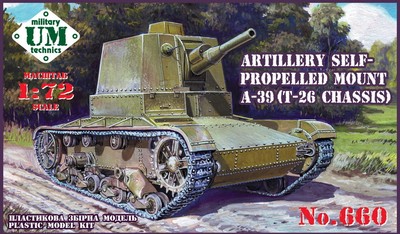 See on Ebay »
Shipping to: Worldwide
From: UA-Ukraine
Store: UA_Model_Kits
UM-MT 1/72 A-39 (T-26 Châssis) Soviétique Auto-Propulsé Pistolet #660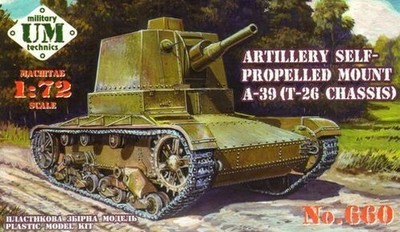 See on Ebay »
Shipping to: Worldwide
From: GB-United Kingdom
Store: Model Hobbies Limited
A-39 (T-26 CHASSIS) SOVIET SELF-PROPELLED GUN 1/72 UMMT 660
9.99 +8.90USD
Shipped by Plastic Models Store, from $8.90, free over $150 orders
In Stock