37mm anti-aircraft gun mount automatic 70K
In 1938, on the basis of automatic 37 mm automatic anti-aircraft 61-K, in the design office of the plant number 8 was designed 37 mm automatic anti-aircraft gun in the ship's machine. In December 1938, made a prototype installation , and from 14 March to 21 May 1939 conducted field tests . In 1940, on the Black Sea were conducted shipboard trials . After installation of shipboard tests under the name " 37 mm automatic anti-aircraft gun mount 70 -K" adopted the Soviet Navy. Although that was created more progressive deck anti-aircraft installation B-11 anti-aircraft installations with automatic 70-K, 1956 industry continued release of deck units 70 K (released 1184 units). Installing continued to recruit small antisubmarine ships. In 1948, was designed to set a new armored shield with improved inspection and the increased area of booking (6.5 mm thick armor, shield weight of about 300 kg). At repair of old boards in factories remodel (conducted Standardization) for the new board. After 1950, the USSR handed combat ships and boats of plants 70-K model 1948 in Poland, Bulgaria, Romania, Albania, Egypt, China, Indonesia, Cuba.
MARKETPLACE
This site contains affiliate links to products. We may receive a commission for purchases made through these links.
UMmt 1/72 657-008 USSR 37mm/67 (1.5") Automatic Anti-Aircraft Gun 70-K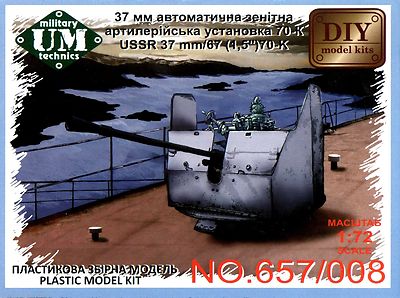 See on Ebay »
Shipping to: Worldwide
From: TW-Taiwan
Store: AlwaysModel
Um-Mt 1/72 USSR 37mm/67 (3.8cm) 70-K Artillerie Pistolet 657/008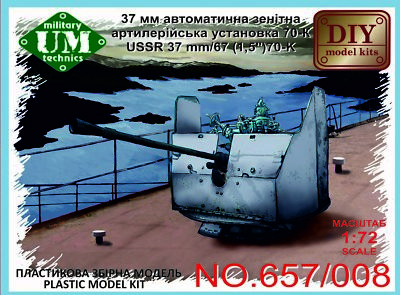 See on Ebay »
Shipping to: Worldwide
From: GB-United Kingdom
Store: Model Hobbies Limited
UM-MT 1/72 USSR 37mm/67 (1,5") 70-K Artillery Gun # 657/008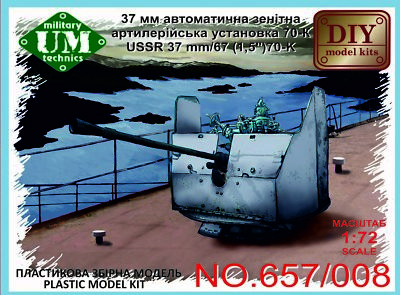 See on Ebay »
Shipping to: Worldwide
From: GB-United Kingdom
Store: Model Hobbies Limited