Armored antiaircraft defense platform of an armored train with two 37мм automatic antiaircraft guns 61-K.
Red Army's armored trains at the beginning of the Great Patriotic War, as a result of lack of means of antiaircraft defence (air defense) suffered big losses from air attacks of the enemy.
To protect BEPO anti-aircraft weapons with different arms were created. The most effective against German aircraft was considered to be armored car armed with two 37 mm automatic antiaircraft guns constructed at "Stalmost" plant in 1943-45.
They were made on the basis of long biaxial or eight-wheel platforms which got "Armored platform PVO-4" designation. Among themselves they differed by armor protection scheme: later designs had armor protection of a running gear. On a floor of the platform armor case-mates with leaning-back top boards were installed and fastened. Within these case-mates 37 mm automatic antiaircraft guns 61-K were placed on special devices, with the possibility of rotation around its axis. The crew of such armored platform totalled 10-12 fighters. During the war 46 such air defence platforms were made.
MARKETPLACE
This site contains affiliate links to products. We may receive a commission for purchases made through these links.
Armored Air Defense Platform of an Armored Train << UMmt #648, 1:72 scale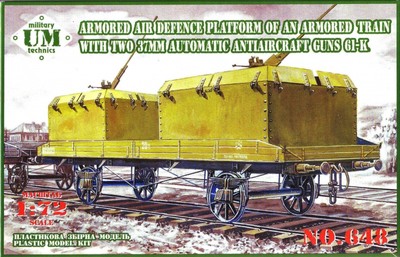 See on Ebay »
Shipping to: Worldwide
From: UA-Ukraine
Store: UA_Model_Kits

Time Left: 9 days 5 h 28 m 4 s
UMmt 1/72 648 WWII Soviet Armored Air Defence Platform w/Two 37mm AA Gun 61-K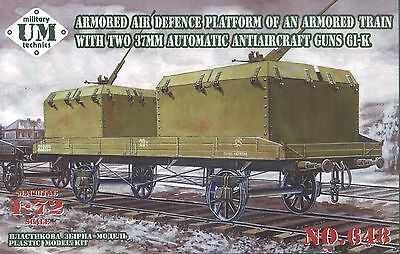 See on Ebay »
Shipping to: Worldwide
From: TW-Taiwan
Store: AlwaysModel

Time Left:
UM Military Technics 648 Armored air defense platform of an armored train 1/72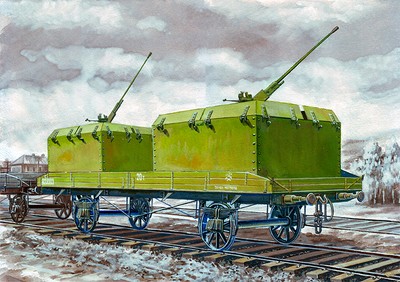 See on Ebay »
Shipping to: Worldwide
From: UA-Ukraine
Store: modEl-kits store

Time Left: 25 days 1 h 27 m 16 s