Opel Blitz Kfz.385 Tankwagen
The Opel Blitz truck was one of the most numerous and widespread in the German army and at the same time one of the best known types of vehicle of World War II. During its years of construction from 1937 to 1944 no fewer than 82,000 units were built. In the course of its many years of active service, apart from the basic cargo version, dozens of different specialized variants were developed utilizing the basic truck chassis, including even such exotic types as a hot air blower for use with equipment in winter time, mobile bath units, hairdressing vehicles, etc. However besides the classic truck, one of the most prominent and familiar types was the aviation fuel servicing truck, the Flugbetriebsstoff Kessel-Kraftwagen (Kfz.385), which was widely used in all theaters from North Africa to the Eastern Front.
The first vehicles of this type were produced in early 1941 as by that time the needs of Germany's future participation in war was already clear. The early series refuelers had an open driver's cabin with a tarpaulin covering, just as did the earliest trucks of this type. Later it was decided not to make changes to the machine design, although it was obvious that North Africa would not be the only place these machines would find themselves in. The Flugbetriebsstoff Kessel-Kraftwagens which were operated in the severe conditions of the Russian winter always moved with covered cabins, though it was considered that an open cabin would facilitate the driver's maneuvering on airfields near planes before refueling.
In comparison with the standard trucks the quantity of the Flugbetriebsstoff Kessel-Kraftwagen (Kfz.385) built was quite small (different sources indicate between 300 and 500 refuelers were produced), however in contemporary photos it is possible to see the Kfz.385 near all the main types of fighters and bombers of the Luftwaffe, as well as near large transport planes. Their military service lasted until the end of the war, and even the epochal transition from propeller to jet aircraft saw the continued use of the Flugbetriebsstoff Kessel-Kraftwagen (Kfz.385) – the first jets such as the Me 262 were also refueled by these vehicles.
MARKETPLACE
This site contains affiliate links to products. We may receive a commission for purchases made through these links.
Roden 730 - 1/72 - Opel Blitz Kfz. 385 Tankwagen Truck WWII plastic model kit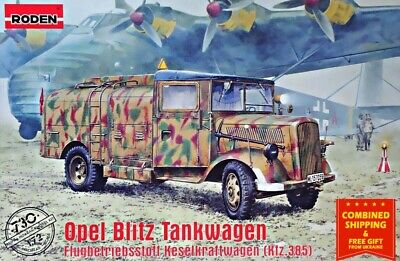 See on Ebay »
Shipping to: Worldwide
From: UA-Ukraine
Store: scalemodelkits
Opel Blitz Kfz. 385 Tankwagen German Truck WWII 1/72 Plastic Model Kit RODEN 730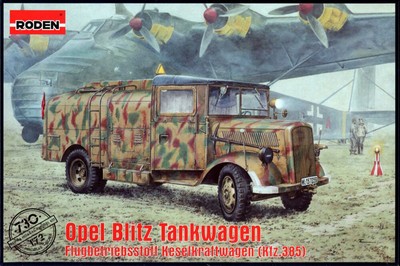 See on Ebay »
Shipping to: Worldwide
From: UA-Ukraine
Store: uazebuy
OPEL BLITZ KFZ.385 TANKWAGEN (GERMAN WEHRMACHT/LUFTWAFFE MKGS) #730 1/72 RODEN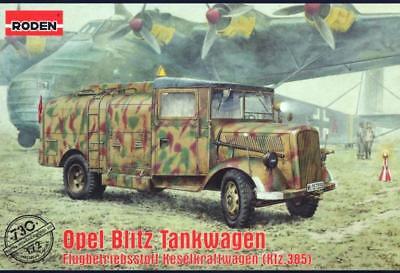 See on Ebay »
Shipping to: Worldwide
From: PL-Poland
Store: accurahobbykits
Roden OPEL Blitz KFZ.385 TANKWAGEN 1/72 730
$19.95 + $4.99 shipping
Check on Amazon for more details.
OPEL BLITZ KFZ.385 TANKWAGEN 1/72 RODEN 730
12.99 11.30 +8.90USD
Shipped by Plastic Models Store, from $8.90, free over $150 orders
In Stock