This site contains affiliate links to products. We may receive a commission for purchases made through these links.
For the movement of supplies to troops on the battlefield, the Federal German Army uses high mobility off-road vehicles. At the end of the nineteen seventies MAN introduced the "Lkw 5 t mil gl" which, due to its all-wheel drive (4×4) and free-moving axles meets the requirements and is therefore one of the best trucks of its class in the world. With its 256 bhp V8 engine it can reach a maximum road speed of 90 km/h.
– Finely engraved surface details
– Authentic chassis
– Detailed transmission and axles
– True-to-original tyres and rims
– Detailed driver's cab and internal fittings
– Platform with finely engraved surface detailing
– Separate tilts
– Fuel can
– Spare tyres with mounting bracket on cab
– Authentic decals for 4 Federal German Army vehicles:
– GEKON UNOSOM, Somalia, 1994
– 1./JgBtl 511, Flensburg, 1987
– KFOR, Kosovo, 2006
– Panzerlehrbrigade 9, Stabskompanie, Munster, 2012
Revell - 3300 - LKW 5t.mil gl (4x4 Truck) for sale in Ebay:
3 results, showing 3.
*Note that box can be different depend on the year of production, some times wrong products appear in the results, be aware.
IMPORTANT: Note that all the responsibility about the items are of the seller, we provide results from Ebay sellers, but we don't directly sold anything. Ebay and Paypal protect you against fraudulent sellers. We try to make our provided results as much accurate as we can, but second hand sets, incomplete sets, or different sets can be listed here, so check the product in Ebay prior to purchase, ask the seller if you have any doubt, and don't buy if you haven't 100% confidence.
Revell 03300 MAN LKW 5t.mil gl 4x4 Truck Bundeswehr 1:72 MIB OVP 1607-20-76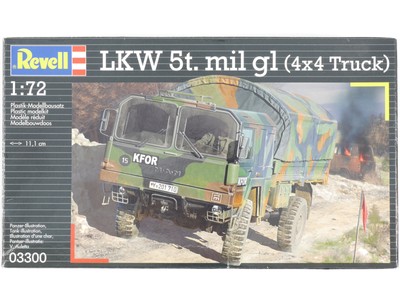 See on Ebay »
Shipping to: Worldwide
From: DE-Germany
Store: loveoldtoys

Time Left: 16 days 6 h 43 m 39 s
LKW 5t.mil gl 4x4 Truck Off-Road Transport 1/72 scale skill 4 Revell kit#3300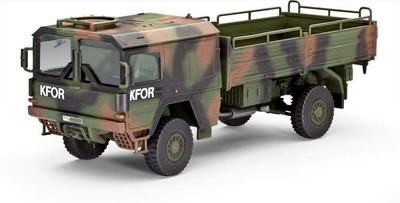 See on Ebay »
Shipping to: Worldwide
From: CA-Canada
Store: Quality Hobby Shop

Time Left: 13 days 13 h 35 m 11 s
REVELL 1/72 - LKW 5T.MIL GL 4X4 TRUCK ART. 3300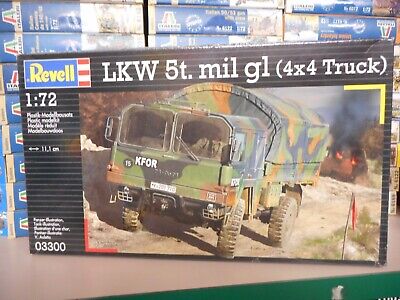 See on Ebay »
Shipping to: Worldwide
From: IT-Italy
Store: effemodel.palermo

Time Left: 5 days 6 h 12 m 4 s