This site contains affiliate links to products. We may receive a commission for purchases made through these links.

PzKpfw III Ausf. L
A model construction kit of the 1942-built German medium tank in the L version.
– Injection moulded tracks with individual links and segments
– Rotating turret
– 5 cm L/60 gun
Authentic decal set for following versions:
– Pz.Kpfw.III Ausf. L, unknown unit, Eastern Front, early 1943
– Pz.Kpfw.III Ausf. L, 14 , Pz.Rgt. 2, 16. Pz.-Div., Stalingrad, autumn 1942
* We still haven't all the information but the sprue pictures showed in the promotion by Revell looks like the same than the old kit number 03133 which you can found related at the bottom of this page.
Revell - 03251 - PzKpfw III Ausf. L for sale in Ebay:
2 results, showing 2.
*Note that box can be different depend on the year of production, some times wrong products appear in the results, be aware.
IMPORTANT: Note that all the responsibility about the items are of the seller, we provide results from Ebay sellers, but we don't directly sold anything. Ebay and Paypal protect you against fraudulent sellers. We try to make our provided results as much accurate as we can, but second hand sets, incomplete sets, or different sets can be listed here, so check the product in Ebay prior to purchase, ask the seller if you have any doubt, and don't buy if you haven't 100% confidence.
1/72 Revell 03155: PzKpfw.III Ausf.L & German Panzergrenadiers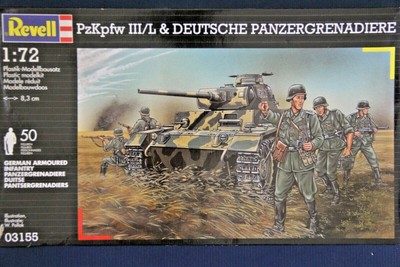 See on Ebay »
Shipping to: Worldwide
From: US-Sierra Vista,AZ,USA
Store: JOE'S MILITARY MINIATURES

Time Left: 23 days 20 h 59 m 5 s
Revell Tanks 1:72 Model Kits Challenger T34 T55 M109 M2 Bradley Pzkpfw Tiger
See on Ebay »
Shipping to: Worldwide
From: GB-United Kingdom
Store: hobbies247

Time Left: 4 days 9 h 8 m 24 s