This site contains affiliate links to products. We may receive a commission for purchases made through these links.
Model construction kit of Sd.Kfz.7 with a 8.8 cm AA Gun Flak 37, probably the most famous anti-aircraft gun of World War II.
– One-piece injection moulded tracks to be bent to shape
– Specialised trailer No 202
– Kit can be assembled in either the transport or action position
– A choice of two gun shields and two gun barrels
Authentic decal set for following versions:
– 15. Panzer Division, Deutsches Africa Korps, Tripolis / Libyen, 1941
– Heeres-Flak-Artillerie-Abteilung 277, 1. Panzer Division Gespensterdivision , Russland, 1941
This kit is a combination of two previous Revell kits, 03186 – Sd.Kfz. 7 and 03174 – German 8.8cm Flak 36 with some new parts and decals.
Revell - 03210 - Sd.Kfz.7 + 8,8 cm Flak 37 for sale in Ebay:
2 results, showing 2.
*Note that box can be different depend on the year of production, some times wrong products appear in the results, be aware.
IMPORTANT: Note that all the responsibility about the items are of the seller, we provide results from Ebay sellers, but we don't directly sold anything. Ebay and Paypal protect you against fraudulent sellers. We try to make our provided results as much accurate as we can, but second hand sets, incomplete sets, or different sets can be listed here, so check the product in Ebay prior to purchase, ask the seller if you have any doubt, and don't buy if you haven't 100% confidence.
Revell #03210 Sd.Kfz.7 + 8,8 CM Flak 37 Mint in box 2015 Factory sealed kit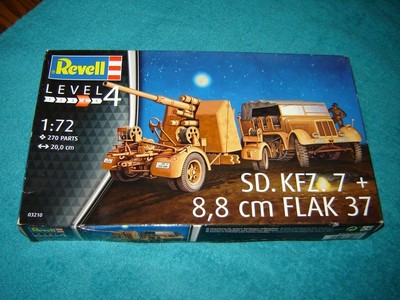 See on Ebay »
Shipping to: Worldwide
From: US-Jackson,MI,USA
Store: nickelalley

Time Left: 27 days 2 h 33 m 18 s
2015 Revell #3207 1/72 Sd.Kfz 7-8 tonne halftrack infantry vehicle model kit new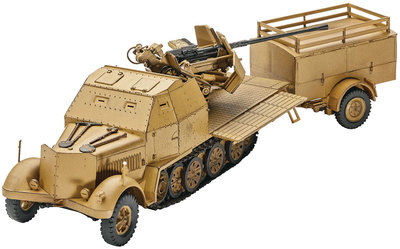 See on Ebay »
Shipping to: Worldwide
From: US-Cresco,PA,USA
Store: clay's&sue's hobbyoutlet

Time Left: 7 days 3 h 56 m 41 s