This site contains affiliate links to products. We may receive a commission for purchases made through these links.
Curiously, this not common 251 variant, has been light two times this year, as Italeri also has released the same variant… coincidence?
This medium armoured fighting vehicle, 16,000 of which were built from 1938, was the main combat vehicle and armoured personnel carrier of the German mechanised infantry in the Second World War. The Sd.Kfz 251/16 type C, so-called "flame thrower", was equipped with two lateral 14 mm flame thrower 42s and two MG 42s. Flammable oil was pumped through spray nozzles and ignited. The flames had a maximum range of 40 m.
– Fine structural details on surface
– Two MG 42
– Two 14 mm flame thrower 42 with pumping equipment
– Filigree tools and accessories
– Rear doors optionally open or closed
– Easy to assemble boxed tracks and suspension
– Injection moulded tracks with individual links and segments
– Decals for the following two versions:
– 36. Inf. Div. Inf. Reg. 87 mot. Pionierzug, Russland Sommer 1942
– 60. Inf. Div. Inf. Reg. 92 mot. Pionierzug, Russland 1941
Revell - 03197 - Sd.Kfz.251/16 Ausf. C for sale in Ebay:
2 results, showing 2.
*Note that box can be different depend on the year of production, some times wrong products appear in the results, be aware.
IMPORTANT: Note that all the responsibility about the items are of the seller, we provide results from Ebay sellers, but we don't directly sold anything. Ebay and Paypal protect you against fraudulent sellers. We try to make our provided results as much accurate as we can, but second hand sets, incomplete sets, or different sets can be listed here, so check the product in Ebay prior to purchase, ask the seller if you have any doubt, and don't buy if you haven't 100% confidence.
Revell 1:72 03197 Panzerwagen Sd.Kfz.251/16 Ausf.C NEU OVP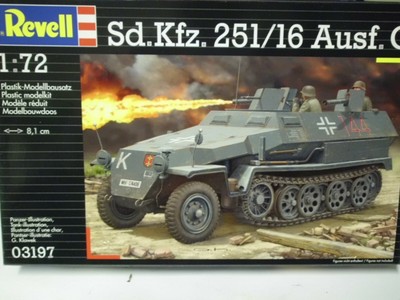 See on Ebay »
Shipping to: Worldwide
From: DE-Germany
Store: Lokprofi

Time Left: 13 days 10 h 24 m 28 s
Revell 1/72 1/76 Military Vehicle Tank New Plastic Model Kit 1 72 76
See on Ebay »
Shipping to: Worldwide
From: GB-United Kingdom
Store: mrmodelsinfo

Time Left: 9 days 10 h 56 m 51 s