Pz.Kpfw. IV B, 21 Panzerdivision (neu) 1943 with Photo-Etched Parts
Historical outline
Vs.Kfz.622 Ausf. B was the next version of Panzer IV tank produced between May to October of 1938 in number of 45 units. Thanks to the experience collected during the exploatation of Mark "A" tanks, the new version of the tank received a more powerful engine, a six- speed gearbox, thickened armour owing to make this tank to be immune to 20 mm antitank cannons projectiles.
Design of the tank commander observation cupola, and the way of gun mantletd mounting were changed. A characteristic "V"-shaped structure appeared under the cannon barrel: the antenna deflector to bending it aside and securing it from damages in a time of turret trawerse. Mechanic-driver and gunner-wireless radio operator hatches were covered by one piece, forward-opened covers. Front wall of the hull was straightened, the machine gun ball mount (Kugelblende) was replaced by a rectangular observation aperture shielded by a layer of organic glass (Plexiglass or Perspex), and a rectangular upward-opened) shield with a horizontal observation slot. An opening located to the right side of the observation slot occurred itself the hole closed by a steel, conical "peg"; it was making the plug of the shooting aperture for a submachine gun – in the "B" version the "Four" was not equipped with a bow machine gun. In this version the driver's observation slot was covered by a two-piece cover consisting of rectangular plates opening itself to the top and downward.
In 1939, during the Polish campaign, "Fours" were attached to the three-vehicle heavy tank platoon in a light tank company, which gave only six "Fours" in a two-battalion tank regiment. Similar to the "Fours" of Mark "A", the"Fours" of Mark "B" ones were either destroyed to the last or withdrawn from combat units and turned for scrapped. In the second half of year 1943 surviving examples have been turned over to the training units.
MARKETPLACE
This site contains affiliate links to products. We may receive a commission for purchases made through these links.
Mirage Hobby 1/72 - Pz.Kpfw. IV B, 21 Panzerdivision (neu) 1943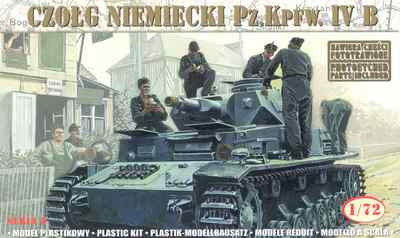 See on Ebay »
Shipping to: Worldwide
From: PL-Poland
Store: pegazos pl

Time Left: 27 days 13 h 46 m 32 s
Mirage Hobby Plastic Military Model Kit 1/72 German Tank Pz. Kpfw. 4 B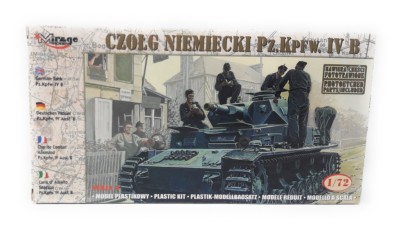 See on Ebay »
Shipping to: Worldwide
From: DE-Germany
Store: UNBESPIELT-Shop

Time Left: 10 days 8 h 21 m 24 s