This site contains affiliate links to products. We may receive a commission for purchases made through these links.
U.S. Light Tank M5 'TUNISIA 1942'
Camouflage schemes, decals included:
M5 Light Tank, Company C, 70th Tank Battalion (Light), Oran, Marocco, December 1942
M5 Light Tank, Company A, 70th Tank Battalion (Light), Casablanca, Marocco, January 1943
M5 Light Tank, Company A, 70th Tank Battalion (Light), Tunisia, February 1943
Historical outline:
M5 Tank presented on the illustration, despite the fact that its photographs were repeatedly published both in press as well as in book publications, belongs to one of the less known military vehicles of World War II. This is the one of the tanks from US Army's "A" Company of 70th Armored Battalion (Light). This Armored Battalion was officially launched into the life ("activated"), by the order from July 15th, 1940, as the Medium Tank Battalion, of the subunits of 34th Infantry Regiment, and 67th Armored Regiment (Medium). Thereby it become to be one of the first, among the 1st and 2nd Armored Division, units of American Armored Forces, and simultaneously first independent tank battalion, being not the organic part of the Armored Divisions. Despite planned provision it with medium tanks, exactly because of lack of them, already at the stage of organization of the subunits it was reorganized into light tank battalion, because only in such tanks could be equipped.
Already within the month after Japanese attack on Pearl Harbor element of the battalion had to take part in occupation of the French island Martinique in West Indies (in Windward Islands Archipelago of Lesser Antilles coming into composition of Caribbean Islands Archipelago), but after the show of force at the shores of Island, Her Governor with his administration took from the Vichy government side for Free French side.
Subunits (Companies) of the 70th Tank Battalion (Light) fulfilled then role of garrison units on the Iceland, as well as Northern Ireland and Scotland.
In a day of 8th November 1942, 70th Tank Battalion (Light) landed in North Africa, within the frames of Operation "Torch", not as a whole, but by single companies. Company "A" landed as attached to 39th Infantry Regiment of 9th Infantry Division, in vicinity of Algiers. After initial time of fulfilling the function of cover for airfield in Glida, and reinforcing the 509th Parachute Infantry Regiment, Company "A" of 70th Tank Battalion was attached to French infantry units. Within the time of fighting in North Africa, in the period from May 11th to 13th 1943 only it took to captivity from 17.000 to 20.000 POW's! 25 of its soldiers were decorated with French Croix de Guerre, and "A" Company was picked for fulfilling the duty of Guard of Honor at the time of international victory parade in Tunis in a day of May 20th. Exactly from that time dating themselves the most known pictures of its M5 light tanks.
Mirage Hobby - 726077 - U.S. Light Tank M5 'TUNISIA 1942' for sale in Ebay:
1 results, showing 1.
*Note that box can be different depend on the year of production, some times wrong products appear in the results, be aware.
IMPORTANT: Note that all the responsibility about the items are of the seller, we provide results from Ebay sellers, but we don't directly sold anything. Ebay and Paypal protect you against fraudulent sellers. We try to make our provided results as much accurate as we can, but second hand sets, incomplete sets, or different sets can be listed here, so check the product in Ebay prior to purchase, ask the seller if you have any doubt, and don't buy if you haven't 100% confidence.
Mirage Hobby 1/72 - U.S. Light Tank M5 'TUNISIA 1942'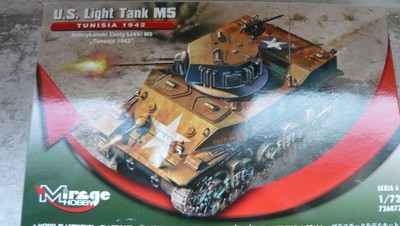 See on Ebay »
Shipping to: Worldwide
From: PL-Poland
Store: pegazos pl

Time Left: 21 days 21 h 2 m 26 s