This site contains affiliate links to products. We may receive a commission for purchases made through these links.
– 123 plastic parts
– soft plastic tracks and tow rope
– 9 photo-ertched parts
– white metal figure and machine gun
– decals for 3 painting versions
– 6 page instruction sheet with history of the plane, technical data, assembly and painting instructions
Brief history:
One of such command vehicles on the other side of the front was the British Grant Mk I medium tank, which spacious interior provided ample toom for command duties. There was so much room inside it indeed, that some were carrying the full array of armament, with only ammunition supply depleted. The most renown of the Grant Command Tanks was the 'Monty' – Field-Marshal's Bernard L. Montgomery's personal mount during the African campaing of 1942/43.
Mirage Hobby - 720805/728005 - COMMAND TANK GRANT Mk I 'Monty' for sale in Ebay:
1 results, showing 1.
*Note that box can be different depend on the year of production, some times wrong products appear in the results, be aware.
IMPORTANT: Note that all the responsibility about the items are of the seller, we provide results from Ebay sellers, but we don't directly sold anything. Ebay and Paypal protect you against fraudulent sellers. We try to make our provided results as much accurate as we can, but second hand sets, incomplete sets, or different sets can be listed here, so check the product in Ebay prior to purchase, ask the seller if you have any doubt, and don't buy if you haven't 100% confidence.
Mirage Hobby Mira728005 Grant Mk.I Monty 1/72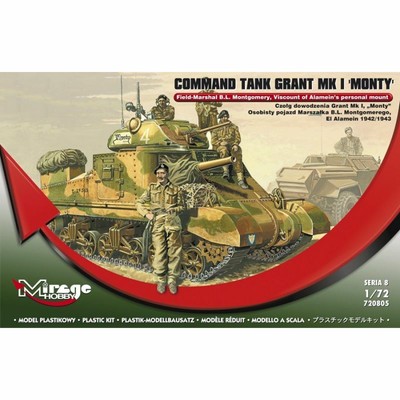 See on Ebay »
Shipping to: Worldwide
From: FR-France
Store: Cocktail Distribution 2

Time Left: 3 days 12 h 10 m 8 s