LG 3000 Funkmastkraftwagen (Kfz. 301)
Medium Off-Road Truck Type Mercedes LG 3000
From the start of the rearmament of the German Army in the early 1930s, the benefits of motorized vehicles were realized and all efforts were made to provide the proper vehicles for the 'Blitzkrieg' style. In the middle of the thirties Mercedes-Benz company developed LG 3000 off-road three-axle ( 6×4 ) truck. There was the continuation of the Mercedes G 3 model from the 1928 year. Instead of their competitors with gazoline engines, type LG 3000 was equipped with Diesel engine.
Truck was delivered mainly to the Luftwaffe and the Engineers troops. Its battle career started in the Spanish Civil War. Service continued to be used throughout the World War II. Many types of bodies were bulit.
In the Wehrmacht this Krupp vehicle was used as Radio truck, Fuel tank truck (3500 L capacity), Photography truck, Mobile meteorological station, Airport searchlight truck, etc. They served on all fronts from Russia to North Africa. Production ended in 1938. Because truck served throughout WW II, there were applied all variants of German camouflages. Pre-World War II Germany camouflage schema used RAL 7021 Dark Gray as a base color with camouflage patches of RAL 7017 Brown. In Europe there was Panzer Grau (RAL 6006), while in Africa there was Sand. Panzer Grau was replacedby Dunkelgelb (RAL 7058) with green or brown mottles. Cars were overpainted by whitewash in the winter conditions.



MARKETPLACE
This site contains affiliate links to products. We may receive a commission for purchases made through these links.
Mac Distribution 1/72 LG 3000 Funkmastkraftwagen (Kfz.301) #72119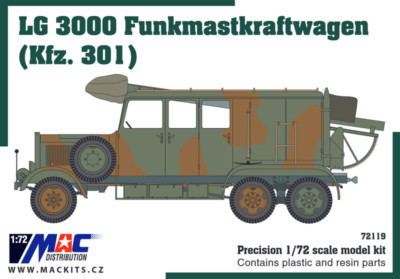 See on Ebay »
Shipping to: Worldwide
From: GB-United Kingdom
Store: Model Hobbies Limited
Mac Distribution 1/72 LG 3000 Funkmastkraftwagen (Kfz.301) # 72119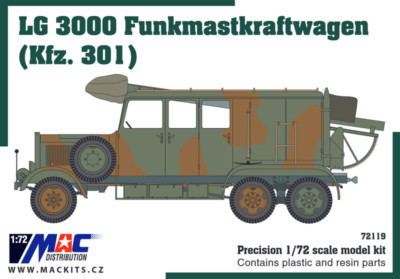 See on Ebay »
Shipping to: Worldwide
From: GB-United Kingdom
Store: Model Hobbies Limited
Mac Distribution 1/72 LG 3000 Funkmastkraftwagen (Kfz.301) # 72119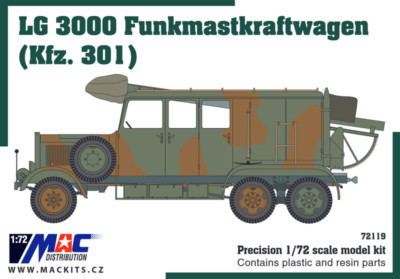 See on Ebay »
Shipping to: Worldwide
From: GB-United Kingdom
Store: Model Hobbies Limited