M4 High Speed Tractor (155mm/8-in./240mm)
The 18-ton M4 high speed tractor series has been developed and built by the Allis-Chalmers Manufacturing Company of Milwaukee,Wisconsin, between 1943 and 1945. The design was based upon the T9 and T9E1 was standardized as the Medium Tractor M4 which became the High Speed Tractor M4.Together with the M5 and M6 High Speed Tractors they replaced the older commercial-type crawler tractors which did not meet the requirements of a modern mechanized army any longer. The high speed tractors could carry both crew and a basic supply of ammunition. Production started in March 1943 and 5552 M4 tractors were assembled until June 1945,plus 259 M4A1 tractors between June and August 1945. The 18-ton M4 high speed tractor was designed mainly as a prime mover for the 155mm gun,and 8-inch and 240mm howitzers.
Model Dimension Length: 84.3mm Width: 42.3mm
Total Plastic Parts 20+
Total Sprues 2 sprues , upper hull and lower hull
Chromeplate Parts n/a
Resin Parts n/a
Metal Parts n/a
Photo Etched Parts n/a
Released Date 2016-09
MARKETPLACE
This site contains affiliate links to products. We may receive a commission for purchases made through these links.
82921 Hobby Boss Tractor M4 High Speed ​​Tractor (155Mm / 8-In. / 240Mm) (1:72)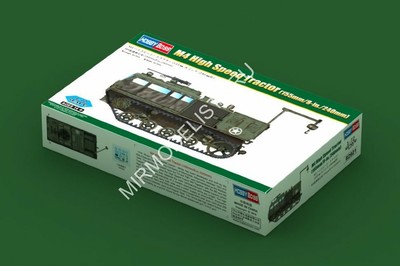 See on Ebay »
Shipping to: Worldwide
From: RU-Russian Federation
Store: Mir-Modelista

Time Left: 25 days 13 h 59 m 20 s
Hobby Boss 1:72 82921 M4 High Speed Tractor (155mm/8-in./240mm) - NEU!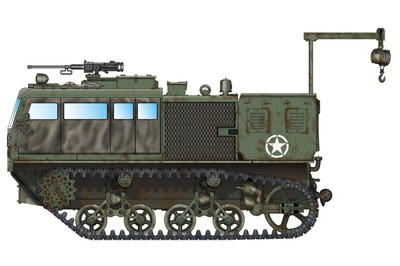 See on Ebay »
Shipping to: Worldwide
From: CN-China
Store: tq model store

Time Left: 28 days 14 h 26 s
82408 Hobby Boss 1/35 Tractor M4 High Speed ​​Tractor (155Mm / 8-In / 240Mm)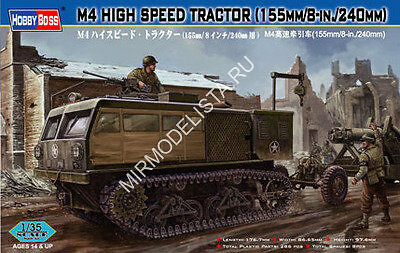 See on Ebay »
Shipping to: Worldwide
From: RU-Russian Federation
Store: Mir-Modelista

Time Left: 26 days 11 h 9 m 27 s