Sd.Kfz.231 SCHWERER PANZERSPÄWAGEN (8-RAD)
Germany created a number of successful schwerer Panzerspahwagen ("heavy armored reconnaissance vehicles") to support its forces. In fact, a whole family of vehicles was based on the Sd.Kfz.231 8-Rad ("eight-wheel") design. This type of heavy armored car was ordered in 1934, and one of its special features was its chassis that featured 8-wheel drive and 8-wheel steering. This chassis was produced by Bussing-NAG and it offered good cross-country mobility. There were dual driver's controls, which meant the vehicle could drive rapidly in either direction if it came under attack. The 8.3-ton Sd.Kfz.231 was built from 1936 through till May 1942, with some 607 vehicles produced in all (including the closely related Sd.Kfz.232). The Sd.Kfz.231 had a hexagonal-shaped turret mounting a 2cm KwK 30 cannon plus one MG34 machine gun.
MARKETPLACE
This site contains affiliate links to products. We may receive a commission for purchases made through these links.
DRAGON 7577 1/72 Sd.Kfz.231 schwerer Panzerspahwagen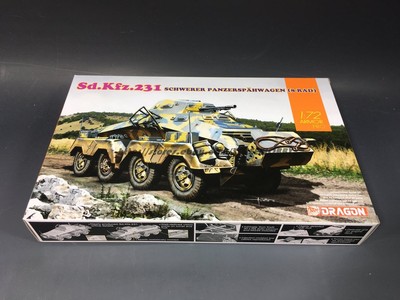 See on Ebay »
Shipping to: Worldwide
From: CN-China
Store: XFREE HOBBY
DRAGON 1/72 7577 Sd.Kfz.231 schwerer Panzerspahwagen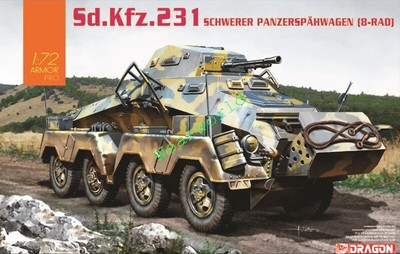 See on Ebay »
Shipping to: Worldwide
From: CN-China
Store: wearworld-1
Dragon 1/72 (20mm) Sd Kfz 231 Schwerer Panzerspahwagen (8-Rad) (DN7577)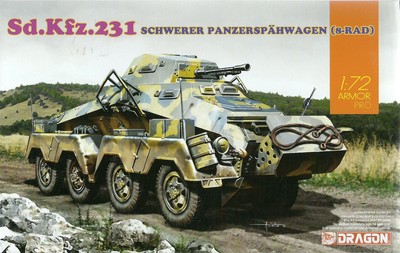 See on Ebay »
Shipping to: Worldwide
From: GB-United Kingdom
Store: McKeeman Models