Berge-Panther mit Aufgesetztern Pz.Kpfw.IV Turm Als Befehlspanzer

Authentic Berge-Panther mit Pz.IV Turm rendered in realistic detail
Commander's hatch defined w/subtle detail
Realistic turret roof rendered w/brackets for armor skirts
Well-defined turret skirts can be assembled separately
Finely detailed 7.5 cm KwK. L/48 gun
Engine deck grills molded w/intricate details
Finely detailed exhaust pipes, jack and rear stowage boxes molded on hull rear
Bolts and rivets delicately represented on hull bottom
One-piece slide-molded lower hull
On-vehicle tools reproduced w/clasps
Road wheels presented w/delicate detail
Finely detailed front headlight
Realistically produced jack block
Easy-to-assemble idlers and sprocket wheels look authentic
One-piece DS tracks
One-piece side armor skirts
While it's the impressive Tiger I tank that usually attracts the most attention, it was the Panther that in the long run was a more important tank to Germany during WWII. This 45-tonne medium tank was also converted into a useful armored recovery vehicle known as the Berge-Panther, with nearly 350 examples produced. One particularly unusual vehicle to be created by the unit s.Pz.Abt.653 was a Berge-Panther fitted with a Panzer IV turret. The result was a command tank with a fixed turret, plus a name that was absolutely mind numbing: the Berge-Panther mit aufgesetztem Pz.Kpfw.IV turm als Befehlpanzer. The work was done as a field conversion by only one unit and it served with the aforementioned heavy tank destroyer battalion (originally equipped with Ferdinand and, later, Jagdtiger vehicles) on the Eastern Front in 1944.
Dragon has such a new 1/72 scale kit of this special hybrid vehicle. The kit is based on a 1/35 scale kit released some time ago, but the retention of all the original detail means modelers are in for a real treat! As with the original conversion, it's essentially a donor Panzer IV turret placed on a Berge-Panther chassis. Because the turret is fixed, there's no rear stowage bin or rear armor. This allows the vehicle's engine hatches to be shown open. In addition, the track links are made from DS for maximum detail. All the appropriate characteristics of this rather special conversion are present, and it will have 1/72 scale model-makers purring with pleasure.
MARKETPLACE
This site contains affiliate links to products. We may receive a commission for purchases made through these links.
Dragon 7508 1/72 Plastic WWII German Bergepanther mit Aulgesetziern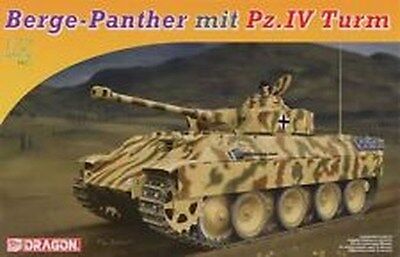 See on Ebay »
Shipping to: Worldwide
From: US-Clearlake Oaks,CA,USA
Store: Small Military Models
Dragon 1/72 Plastic Model Kit Berge-Panther mit Pz.IV Turm #7508 Brand New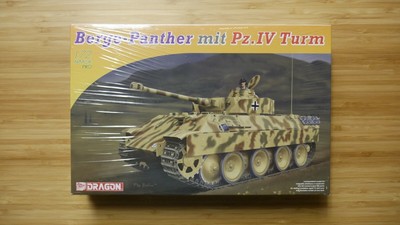 See on Ebay »
Shipping to: Worldwide
From: US-Buffalo Grove,IL,USA
Dragon 1/72 Plastic Model Kit Berge-Panther mit Panzer Pz.IV Turm #7508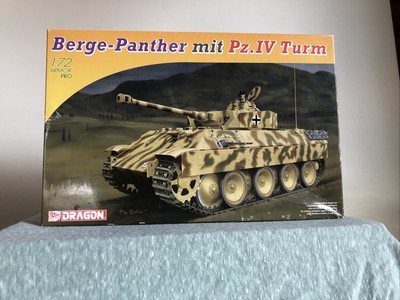 See on Ebay »
Shipping to: Worldwide
From: US-Crystal Lake,IL,USA