Hermes A1 rocket
Plastic kit with PE parts.
The development of the 25 ft tall Hermes A-1 (CTV-G-5/RV-A-5) rocket was begun by General Electric in 1946. Constructed mostly of steel, it was an American version of the German Wasserfall anti-aircraft missile; the Wasserfall was about 1/2 the size of the German A-4 (V-2). Hermes A-1 had one major difference from the Wasserfall. The Peenemünde Nitric Acid/Visol fueled P IX engine was replaced by a General Electric pressure fed 13,500 lb. thrust Liquid Oxygen/Watered Alcohol fueled engine. Beginning in 1947, the engine of the A-1 was tested at GE's Malta Test Station in New York. The G.E. engine had a novel fuel injector which had great influence on future engine development in the USA. Combustion instability problems delayed engine development.
Hermes A-1 components such as guidance and telemetry were tested on several V-2 flights at White Sands Proving Grounds in 1947 and 1948.[40] Plans to turen Hermes A-1 as a operational surface to air missile were dropped in favor of the more suitable Nike. On 18 May 1950 the Army switched emphasis for Project Hermes to the surface to surface mission. The next day the Hermes A-1 first flew. The launch failed when thrust was lost shortly after lift-off. The second flight failed after 41 seconds when the hydraulic servo covers were burned through by engine exhaust. None of the three subsequent Hermes A-1 flights were totally successful, though "they demonstrated the functional capability of the missile system." Those last three launches achieved apogees of 14 miles.
Learn more here.

MARKETPLACE
This site contains affiliate links to products. We may receive a commission for purchases made through these links.
Brengun 1/72 Model Kit 72008 Hermes A1 rocket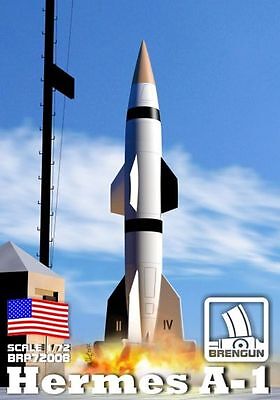 See on Ebay »
Shipping to: Worldwide
From: GB-United Kingdom
Store: Oxonians
Brengun 1/72 Hermes A1 Rocket # 72008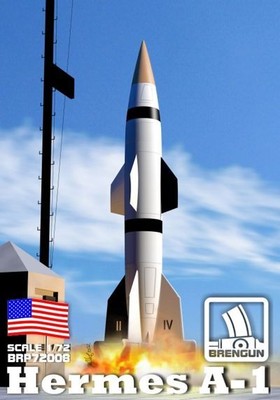 See on Ebay »
Shipping to: Worldwide
From: GB-United Kingdom
Store: Model Hobbies Limited
Brengun 1/72 Hermes A1 Rocket # 72008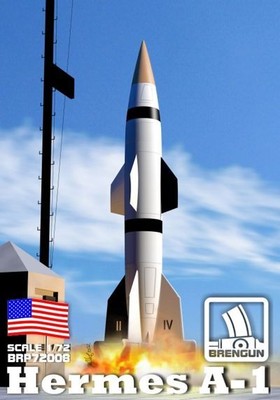 See on Ebay »
Shipping to: Worldwide
From: GB-United Kingdom
Store: Model Hobbies Limited