This site contains affiliate links to products. We may receive a commission for purchases made through these links.

SU-85i
Model has been prepared in our "Profi" standard. Model contains basic plastic parts with resin casted parts for easier construction. Decals for "what if" versions included
SU-85i project was directly following the serial production of SU-76i. In early 1944 it was clear that gun 76.2 mm is not enough to fight with modern German tanks. The new gun caliber 85 mm was selected for T-34 tanks and SU-85. Success of the SU-76i lead to the decision equip these vehicles with the new gun as well. The adjustment was simple – front hull was modified for the new mask of massive cannon. The contruction was , which is directly based on the mask used on self-propelled gun SU-85. The design was completed but producion has not started, neither prototype was build. The reason was simple – stopped availability of Panzer III chassis. Flow of captured chassis stopped because the German Army excluded Panzer III from the first line and exchange it by more modern vehicles. And so the whole cnstruction remained only on paper.
Attack Hobby Kits - 72895 - SU-85i for sale in Ebay:
2 results, showing 2.
*Note that box can be different depend on the year of production, some times wrong products appear in the results, be aware.
IMPORTANT: Note that all the responsibility about the items are of the seller, we provide results from Ebay sellers, but we don't directly sold anything. Ebay and Paypal protect you against fraudulent sellers. We try to make our provided results as much accurate as we can, but second hand sets, incomplete sets, or different sets can be listed here, so check the product in Ebay prior to purchase, ask the seller if you have any doubt, and don't buy if you haven't 100% confidence.
Attack 1/72 SU-85I # 72895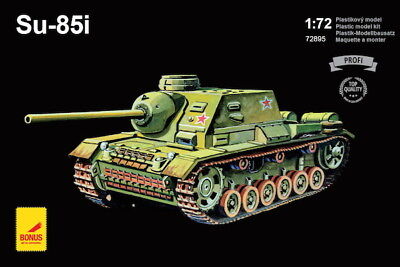 See on Ebay »
Shipping to: Worldwide
From: GB-United Kingdom
Store: Model Hobbies Limited

Time Left: 16 days 17 h 45 m 53 s
Attack 1/72 SU-85I # 72895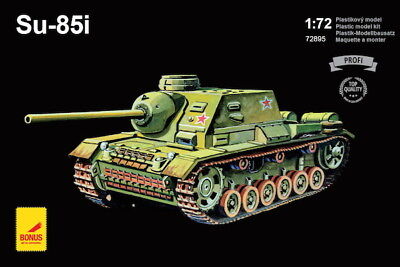 See on Ebay »
Shipping to: Worldwide
From: GB-United Kingdom
Store: Model Hobbies Limited

Time Left: 2 days 18 h 34 m 43 s