This site contains affiliate links to products. We may receive a commission for purchases made through these links.

PzKpfw II Ausf.C Eastern Front
Model has been prepared in the "PROFI" line standard. Kit will contain quality plastic parts, resin casted parts (high quality details plus track bends for easy build). Metal gun barrels will be added as the complement.
This version of PzKpfw II was a result of gradual modernization of this light tank in order to increase the protection of the crew using the added armor and improving working conditions of the commander by adding a commander turrets. This changes greatly changed the look of the car. In addition to the new production, the majority of earlier supplied vehicles were adjusted to this standard. Modifications were carried out at high speed during a break in the fighting after the capitulation of France at the turn of 1940-1941. During the fightings in the Balkans has been overwhelming majority of Panzer II adapted to this standard. This kit will provide some interesting camouflages of vehicles from the Eastern Front 1941 – 1943.
Attack Hobby Kits - 72893 - PzKpfw II Ausf.C Eastern Front for sale in Ebay:
1 results, showing 1.
*Note that box can be different depend on the year of production, some times wrong products appear in the results, be aware.
IMPORTANT: Note that all the responsibility about the items are of the seller, we provide results from Ebay sellers, but we don't directly sold anything. Ebay and Paypal protect you against fraudulent sellers. We try to make our provided results as much accurate as we can, but second hand sets, incomplete sets, or different sets can be listed here, so check the product in Ebay prior to purchase, ask the seller if you have any doubt, and don't buy if you haven't 100% confidence.
ATTACK 72893 PzKpfw II Ausf.C Eastern Front 1:72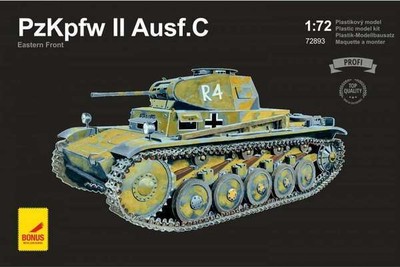 See on Ebay »
Shipping to: Worldwide
From: PL-Poland
Store: ksiazkipl