US 105mm Howitzer M2A1 w/M2A2 Gun Carriage
The 105 mm M2A1 (M101A1) howitzer was the standard light field howitzer for the United States in World War II, seeing action in both the European and Pacific theaters. Entering production in 1941, it quickly entered the war against the Imperial Japanese Army in the Pacific, where it gained a reputation for its accuracy and powerful punch. The M101A1 fired 105 mm high explosive (HE) semi-fixed ammunition and had a range of 11,270 meters, or 12,325 yards, making it suitable for supporting infantry. All of these qualities of the weapon, along with its widespread production, led to its adoption by many countries after the war. Its ammunition type also became the standard for many foreign countries later models. In 1962, the artillery designation system was changed and the 105mm M2A1 howitzer became the M101A1. It continued to see service in the Korean and Vietnam Wars. Though a similar model, the M102 howitzer, shared the same roles in battle, it never fully replaced the M101A1. Today, the M101A1 has been retired by the U.S. military, though it continues to see service with many other countries.
MARKETPLACE
This site contains affiliate links to products. We may receive a commission for purchases made through these links.
105mm US Field Howitzer M2A1 (early) << ACE #72530, 1:72 scale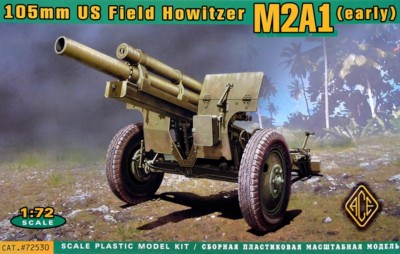 See on Ebay »
Shipping to: Worldwide
From: UA-Ukraine
Store: UA_Model_Kits
Ace Models 1/72 U.S. World War II M2A1 105mm FIELD HOWITZER (EARLY MODEL)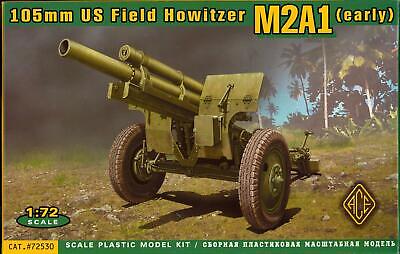 See on Ebay »
Shipping to: Worldwide
From: US-USA
Store: SCOTT'S MODEL WORKSHOP
105mm US Field Howitzer M2A1 (early) ACE 1:72 Plastic model kit #72530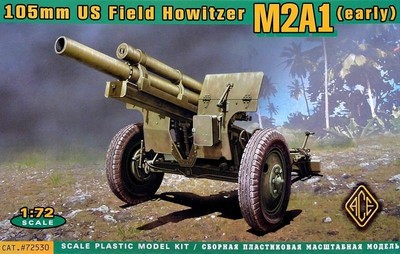 See on Ebay »
Shipping to: Worldwide
From: UA-Ukraine
Store: HetmanHANDMADE