This site contains affiliate links to products. We may receive a commission for purchases made through these links.
Darth Vader's TIE Fighter
To celebrate the 35th anniversary of the Japanese release of Star Wars, Fine Molds finally answers the cries of modelers around the world with a 1/72 rendition of Darth Vader's TIE Fighter! The kit includes a display stand, waterslide decals, masking stickers for the canopy (trimming required) plus seated and standing figures of Vader.
The assembled model by itself measures 75mm long x 84mm wide x 49mm high.
The assembled model mounted on its display stand measures 90mm long x 90mm wide x 125mm high.
Fine Molds - SW16 - Darth Vader's TIE Fighter for sale in Ebay:
3 results, showing 3.
*Note that box can be different depend on the year of production, some times wrong products appear in the results, be aware.
IMPORTANT: Note that all the responsibility about the items are of the seller, we provide results from Ebay sellers, but we don't directly sold anything. Ebay and Paypal protect you against fraudulent sellers. We try to make our provided results as much accurate as we can, but second hand sets, incomplete sets, or different sets can be listed here, so check the product in Ebay prior to purchase, ask the seller if you have any doubt, and don't buy if you haven't 100% confidence.
*Fine Molds 1/72 Star Wars series Darth Vader dedicated Thai Fighter SW16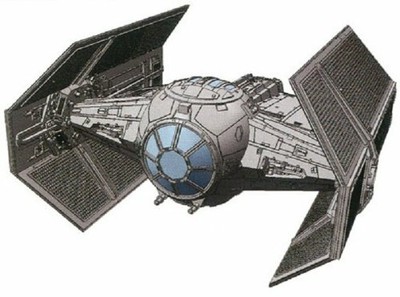 See on Ebay »
Shipping to: Worldwide
From: JP-Japan
Store: japan-kamikaze

Time Left: 22 days 10 h 11 m 2 s
Revell 1/72 Star Wars Darth Vader's Tie Fighter New Fine Molds Model Kit 06881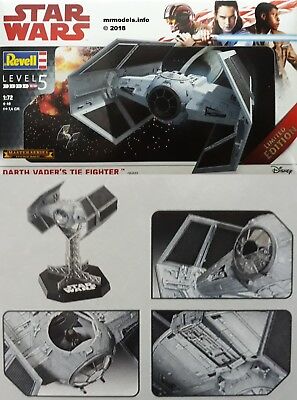 See on Ebay »
Shipping to: Worldwide
From: GB-United Kingdom
Store: mrmodelsinfo

Time Left: 21 days 22 h 26 m 57 s
Revell 1/72 Star Wars Darth Vader's Tie Fighter New Fine Molds Model Kit 06881
See on Ebay »
Shipping to: Worldwide
From: GB-United Kingdom
Store: mrmodelsinfo

Time Left: 21 days 22 h 26 m 57 s