This site contains affiliate links to products. We may receive a commission for purchases made through these links.

Apollo 9 Command/Service Module (CSM) w/Launch Escape System and Lunar Module Adapter
Following Apollo 8's successful orbit of the Moon late in 1968, the next mission linked the Command/Service Module (CSM) and Lunar Module (LM) together as a complete Apollo system. The LM had not been ready in time for the preceding flight, but on March 3 1969 it took off on a ten-day low Earth orbit, propelled into space by a Saturn V SA-504 rocket booster. This particular mission was significant in that it was the first manned flight of an LM, the first docking took place, and it featured the first two-man spacewalk. This mission was able to test various procedures such as backpack life support systems, docking maneuvers and the LM engines in preparation for the eventual Moon landing of Apollo 11. Apollo 9 thus proved that orbital rendezvous was feasible, something essential for a Moon landing.
Features:
– 1/72 true-to-scale precision model
– Displayable die-cast spacecraft with high collectable value
– Aesthetically pleasing color finish with delicate imprinted markings
– Elegant metal stand for easy display
Dragon - 50379 - Apollo 9 Command/Service Module (CSM) w/Launch Escape System and Lunar Module Adapter for sale in Ebay:
1 results, showing 1.
*Note that box can be different depend on the year of production, some times wrong products appear in the results, be aware.
IMPORTANT: Note that all the responsibility about the items are of the seller, we provide results from Ebay sellers, but we don't directly sold anything. Ebay and Paypal protect you against fraudulent sellers. We try to make our provided results as much accurate as we can, but second hand sets, incomplete sets, or different sets can be listed here, so check the product in Ebay prior to purchase, ask the seller if you have any doubt, and don't buy if you haven't 100% confidence.
NASA Apollo 9 Command & Service Module (CSM) DRAGON WINGS 50379 1/72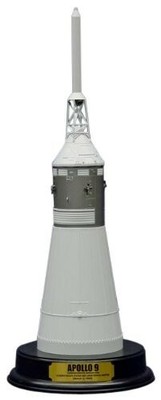 See on Ebay »
Shipping to: Worldwide
From: US-Wichita,KS,USA

Time Left: 11 h 7 m 53 s