This site contains affiliate links to products. We may receive a commission for purchases made through these links.
X-37B Orbital Test Vehicle (OTV)
– 1/72 true-to-scale precision model
– Displayable die-cast spacecraft with high collectable value
– Aesthetically pleasing color finish with delicate imprinted markings
– Elegant metail stand for easy display
Produced by Boeing, the X-37B Orbital Test Vehicle (OTV) is an unmanned spaceplane created by the USA. The X-37 started life in 1999 as a NASA project, but it was taken over by the Department of Defense (DoD) in 2004. The reusable spacecraft conducts orbital flights and is now operated by the US Air Force to demonstrate reusable space technologies. The first orbital flight of the USAF's X-37B took place on April 22, 2010 after it was launched using an Atlas V rocket, and landed at Vanderberg AFB on December 3 2010 as scheduled. Its aerodynamic design is clearly based on that of the Space Shuttle. The 8.9m-long and 4.99-tonne X-37B has the ability to remain in orbit for up to 270 days propelled by a single Rocketdyne AR-2/3 rocket engine.
Dragon - 50377 - X-37B Orbital Test Vehicle (OTV) for sale in Ebay:
1 results, showing 1.
*Note that box can be different depend on the year of production, some times wrong products appear in the results, be aware.
IMPORTANT: Note that all the responsibility about the items are of the seller, we provide results from Ebay sellers, but we don't directly sold anything. Ebay and Paypal protect you against fraudulent sellers. We try to make our provided results as much accurate as we can, but second hand sets, incomplete sets, or different sets can be listed here, so check the product in Ebay prior to purchase, ask the seller if you have any doubt, and don't buy if you haven't 100% confidence.
Dragon Wings X-37B Orbital Test Vehicle Space~50377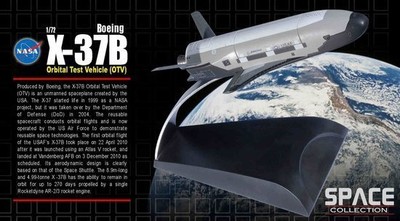 See on Ebay »
Shipping to: Worldwide
From: US-Albuquerque,NM,USA
Store: Collectible-Diecast-Models

Time Left: 3 days 5 h 16 m 4 s