This site contains affiliate links to products. We may receive a commission for purchases made through these links.

Dragon – 11003 – Apollo 10 CSM + LM + LES
– Transparent lunar module adapter is newly produced
– Beautifully reproduced Apollo 10
– Launch escape motor replicates the original
– Pre-formed display stand
– Launch escape tower and aft boost protective cover can be separated assembled
– Authentic lunar module molded w/ascent and descent stages
– Egress platform with delicate detail
– Tiny reaction control thrusters assembled
– Intricate docking target and VHF antenna on ascent stage
– S-band steerable antenna and rendezvous radar antenna can be folded up/down
– Docking Probe Assembly rendered w/intricate detail
– Realistic service propulsion system reproduced
– Aft heat shield molded w/fine detail
– Realistic engine and landing radar antenna molded w/details
Dragon - 11003 - Apollo 10 CSM + LM + LES for sale in Ebay:
1 results, showing 1.
*Note that box can be different depend on the year of production, some times wrong products appear in the results, be aware.
IMPORTANT: Note that all the responsibility about the items are of the seller, we provide results from Ebay sellers, but we don't directly sold anything. Ebay and Paypal protect you against fraudulent sellers. We try to make our provided results as much accurate as we can, but second hand sets, incomplete sets, or different sets can be listed here, so check the product in Ebay prior to purchase, ask the seller if you have any doubt, and don't buy if you haven't 100% confidence.
F/S Dragon 1/72 Apollo 10 CMS + LM + LES plastic model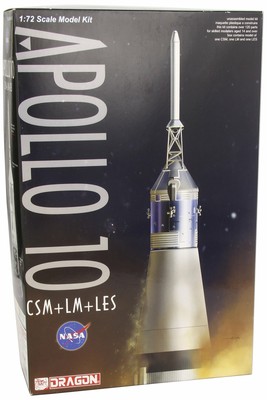 See on Ebay »
Shipping to: Worldwide
From: JP-Japan
Store: AKIRA-JAPAN-LIFE-SHOP

Time Left: 9 days 17 h 19 m 13 s