This site contains affiliate links to products. We may receive a commission for purchases made through these links.

Soyuz TM-12 (England)
The Soyuz TM-12 was the twelfth manned mission to the space station Mir, and it was launched on March 18, 1991. The crew was composed of Anatoli Artsebarski, Sergei Krikalev, and British researcher Helen Sharman, who was the first Briton in space.
This kit will be about 70cm tall and 14cm across when built.
Mach 2 - Soyuz TM-12 (England) for sale in Ebay:
1 results, showing 1.
*Note that box can be different depend on the year of production, some times wrong products appear in the results, be aware.
IMPORTANT: Note that all the responsibility about the items are of the seller, we provide results from Ebay sellers, but we don't directly sold anything. Ebay and Paypal protect you against fraudulent sellers. We try to make our provided results as much accurate as we can, but second hand sets, incomplete sets, or different sets can be listed here, so check the product in Ebay prior to purchase, ask the seller if you have any doubt, and don't buy if you haven't 100% confidence.
Mach 2 Models 1/72 SOYUZ TM-12 ROCKET BRITISH JUNO MISSION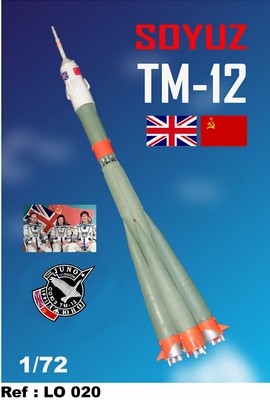 See on Ebay »
Shipping to: Worldwide
From: US-USA
Store: SCOTT'S MODEL WORKSHOP

Time Left: 5 days 7 h 47 m 20 s