This site contains affiliate links to products. We may receive a commission for purchases made through these links.
Buran
Short run technology moulds, not recommended for beginners.
Length, mm: 505
Wingspan, mm: 330
"Buran" is an orbital spacecraft-cosmoplan of the Soviet reusable transport space system (MTCS), created within the framework of the Energy-Buran program. His first and only space flight "Buran" made an unmanned mode on November 15, 1988.
In 2002, the only Buran flying into space was destroyed during the collapse of the hull roof at Baikonur, in which it was stored together with ready-made copies of the Energia launch vehicle.
The kit includes:
Main body comes in a single piece
459 plastic parts
decal (sticker)
scheme for coloring model
detailed instructions in English
Amodel - 72023 - Buran for sale in Ebay:
3 results, showing 3.
*Note that box can be different depend on the year of production, some times wrong products appear in the results, be aware.
IMPORTANT: Note that all the responsibility about the items are of the seller, we provide results from Ebay sellers, but we don't directly sold anything. Ebay and Paypal protect you against fraudulent sellers. We try to make our provided results as much accurate as we can, but second hand sets, incomplete sets, or different sets can be listed here, so check the product in Ebay prior to purchase, ask the seller if you have any doubt, and don't buy if you haven't 100% confidence.
Amodel 72023 "Buran" Soviet Shuttle, 1/72 scale plastic model kit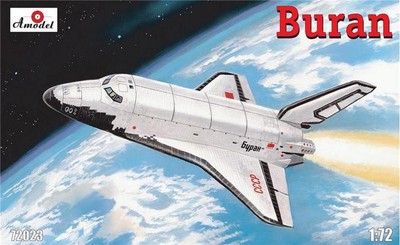 See on Ebay »
Shipping to: Worldwide
From: UA-Ukraine
Store: Hobby Jar Super Store

Time Left: 19 days 10 h 42 m 10 s
Amodel 72023 - 1/72 "Buran" Soviet Shuttle, scale plastic model kit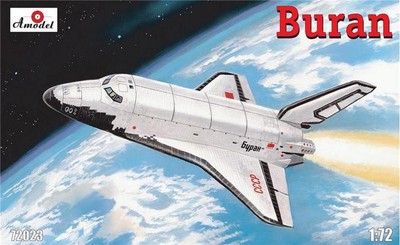 See on Ebay »
Shipping to: Worldwide
From: UA-Ukraine
Store: scalemodelkits

Time Left: 22 days 4 h 57 m 7 s
Amodel 72023 "Buran" Soviet Shuttle Scale Plastic Model Kit 1/72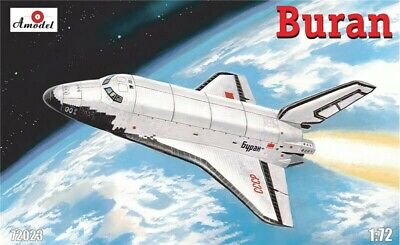 See on Ebay »
Shipping to: Worldwide
From: UA-Ukraine
Store: Plastic_hobby_models

Time Left: 15 days 8 h 48 m 47 s