BEAU GESTE: Algerian Tuareg Revolt
The French conquest of Algeria took place between 1830 and 1847. The French colonial policy of the XIX century was based on a progressive expansion in the North African and Sub-Saharan territories. At the end of the nineteenth century the Tuaregs opposed a fierce resistance to the French troops for the defense of their Central Saharan homeland. A lot of violent military clashes between the French Foreign Legion troops and the Tuareg Berber troops took place especially in the most remote areas of the Algerian territories were several outposts and forts were built by the French. However, the local populations could not compete against the more advanced weapons of French Army. The fighting ended with the signatures of the 1905 and 1917 treaties. The Historical events inspired a lot of novels and movies. The most famous movie could be considered "Beau Geste" of 1939 based on the 1924 novel of the same title by P.C. Wren.
Box contains two of the most beautiful figure sets ESCI ever produced, in our opinion, 237 – French Foreign Legion and (2x) 238 – Muslim Warriors. They already were released as Italeri , codes 6055 and 6054. Box also contains one Italeri – 6148 – Desert Well & Tents and one MDF fort.
MARKETPLACE
This site contains affiliate links to products. We may receive a commission for purchases made through these links.
Italeri 6183 1:72 Beau Gest: Algerian Tuareg Revolt 1877-1912 Diorama Set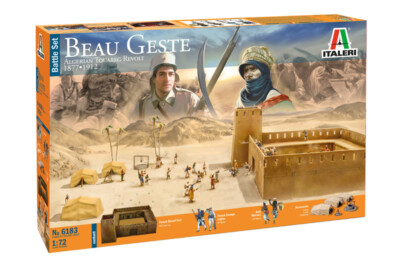 See on Ebay »
Shipping to: Worldwide
From: US-Buford,GA,USA
Store: Trainz
BEAU GESTE Algerian Tuareg Revolt 1877-1912 6183 BATTLE SET ITALERI 1:72 New!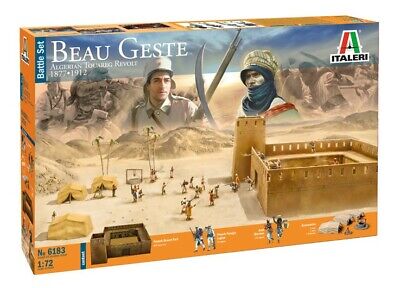 See on Ebay »
Shipping to: Worldwide
From: EE-Estonia
Store: hobby-4-you
Italeri 1:72 6183 Beau Geste Algerian Tuareg Revolt Battle Set kit

See on Ebay »
Shipping to: Worldwide
From: GB-United Kingdom
Store: Hobby-Auctions