WWII : 1940 BATTLE OF ARRAS – ROMMEL'S OFFENSIVE – BATTLE SET
The Battle of Arras took place in Arras, in northeastern France, and was an Allied counter-attack against the German Army, an attempt of British and French armies to stop the Wehrmacht advance toward the English Channel. The division of the British "Frankforce" used two regiments of Matilda tanks, heavily armored for those days, as backbone of the offensive during the battle. However, the Allied offensive was shattered against the determined resistance of the 7th Panzer Division, commanded by General Erwin Rommel, which, despite the suffered losses, strongly kept the position. Rommel, as German anti-tank guns were ineffective, used field Artillery and "flak" guns to knock out the British tanks. After the tactical defeat of Arras, the British troops retreated to the English Channel an started up the code-named Operation Dynamo to evacuate French territories.
Usually this Italeri packages are a good option to pick up some cheaper than usual a few models. In this case content of the package is interesting, but infantry figures are the very well know ESCI German Infantry and British Infatry. Full contents as follow:

MARKETPLACE
This site contains affiliate links to products. We may receive a commission for purchases made through these links.
Italeri 6118 1:72 WWII Battle Set: 1940 Battle of Arras

See on Ebay »
Shipping to: Worldwide
From: US-Buford,GA,USA
Store: Trainz
NEW Italeri 1/72 WW2 BATTLE OF ARRAS, FRANCE 1940 Diorama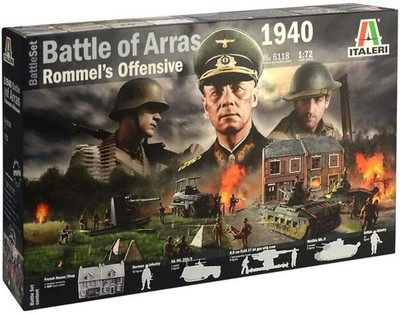 See on Ebay »
Shipping to: Worldwide
From: US-Chandler,AZ,USA
Store: shipwright_hobbies
Italeri 1/72 Battle of Arras Rommel's Offence 1940 Battle Set # 6118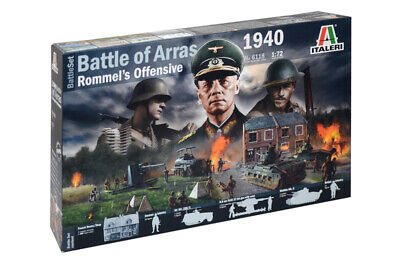 See on Ebay »
Shipping to: Worldwide
From: GB-United Kingdom
Store: Model Hobbies Limited