This site contains affiliate links to products. We may receive a commission for purchases made through these links.
German Missile V-2
This was a very completed set on the time, not only containing the V2 Rocket, but also Heavy Tractor, Meiller Trailer, Launch Pad, 8-t Halftrack and Fire Guidance Center. We needed to wait decades to see in inject plastic again such wonderful combo. Note that Eidai (as Arii later) kits are almost toy alike, with a simplified detail and few parts. This kit didn't included a base either figures.
Eidai - 712-600 - German Missile V-2 (1/76) for sale in Ebay:
3 results, showing 3.
*Note that box can be different depend on the year of production, some times wrong products appear in the results, be aware.
IMPORTANT: Note that all the responsibility about the items are of the seller, we provide results from Ebay sellers, but we don't directly sold anything. Ebay and Paypal protect you against fraudulent sellers. We try to make our provided results as much accurate as we can, but second hand sets, incomplete sets, or different sets can be listed here, so check the product in Ebay prior to purchase, ask the seller if you have any doubt, and don't buy if you haven't 100% confidence.
Vintage & very rare 1/76 GRIP Eidai German Missile V-2 Model Kit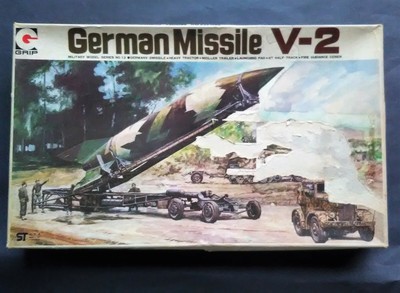 See on Ebay »
Shipping to: Worldwide
From: IE-Ireland

Time Left: 20 days 15 h 23 m 49 s
Vintage & very rare 1/76 EIDAI German Missile V-2 Model Kit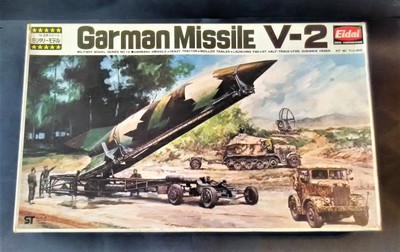 See on Ebay »
Shipping to: Worldwide
From: IE-Ireland

Time Left: 23 days 8 h 12 m 5 s
Eidai German Missile V2 Plastic model Minicar Toy car Military Rare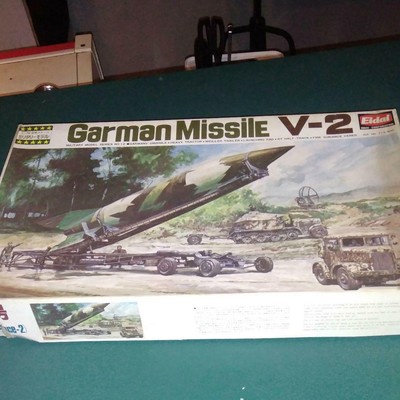 See on Ebay »
Shipping to: Worldwide
From: JP-Japan
Store: ZEN-JAPAN

Time Left: 19 days 6 h 10 m 37 s