This site contains affiliate links to products. We may receive a commission for purchases made through these links.
Flettner 282 B-2
4 decal variants
1. Flettner 282 B-2, V21, Transportstaffel 40, Aigen, April 1945
2. Flettner 282 B-2, V23, Sauerberg, April 1945
3. Flettner 282 B-2, V23, Nellingen at Stuttgart, Germany, June 1945
4. Flettner 282 B-2, V23, Freeman Field, USA, September 1945
The innovative Flettner Fl 282 was one of the first operational helicopter that was used on board of ships. Being the successor of the Flettner Fl 265 which first flew in May 1939, the Flettner 282 was only build in small numbers. The prototypes were build in different variants, one or two seater, closed or open cockpit.In 1941/1942 the Kriegsmarine used a Fl 282 for tests on board of the CL Köln . With a landing platform mounted on turret Bruno, several operational patterns were successfully tested. 32 preproduction aircraft were delivered, and three were taken home as war booty by Russia and the United States.
RS Models - 92184 - Flettner 282 B-2 for sale in Ebay:
3 results, showing 3.
*Note that box can be different depend on the year of production, some times wrong products appear in the results, be aware.
IMPORTANT: Note that all the responsibility about the items are of the seller, we provide results from Ebay sellers, but we don't directly sold anything. Ebay and Paypal protect you against fraudulent sellers. We try to make our provided results as much accurate as we can, but second hand sets, incomplete sets, or different sets can be listed here, so check the product in Ebay prior to purchase, ask the seller if you have any doubt, and don't buy if you haven't 100% confidence.
RS Models 1/72 Flettner Fl 282B-2 # 92184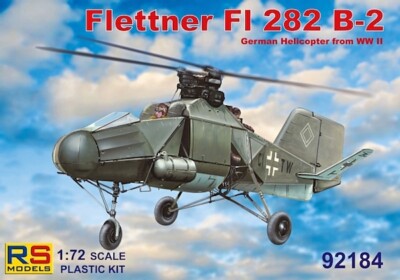 See on Ebay »
Shipping to: Worldwide
From: GB-United Kingdom
Store: Model Hobbies Limited

Time Left: 20 days 3 h 6 m 50 s
RS Models 1/72 Flettner Fl 282B-2 # 92184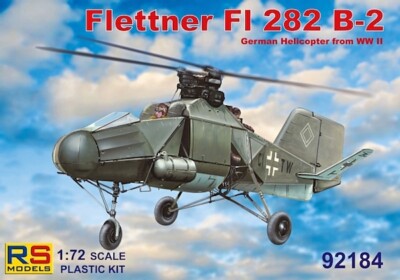 See on Ebay »
Shipping to: Worldwide
From: GB-United Kingdom
Store: Model Hobbies Limited

Time Left: 11 days 1 h 58 m 11 s
Rs Models Rsmo92184 Flettner 282 B-2 1/72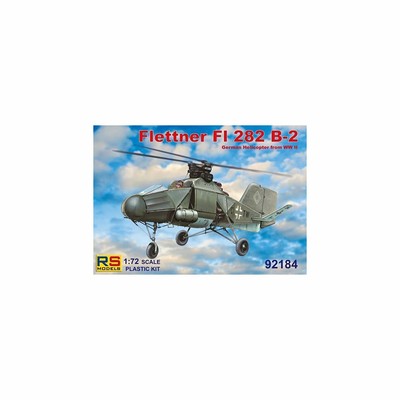 See on Ebay »
Shipping to: Worldwide
From: FR-France
Store: Cocktail Distribution 2

Time Left: 23 days 8 h 16 m 1 s