Ki-43-II Otsu Hayabusa 1/72
The Imperial Japanese Air Force issued Nakajima Company, without the usual competition, in December 1937 with the development of a new fighter aircraft. This new fighter was supposed to replace the recently assigned Ki-27. The development was complicated and somewhat prolonged because of the modifications. Thirteen prototypes were built and subsequently the new fighter, designated Ki-43-I Ko with the combat name Hayabusa, was accepted by the IJAF on January 1, 1941, though the series production had started in September 1940. The prototype of the new version Ki-43-II with a more powerful Ha-115 engine, shortened and strengthened wing took off for the first time in February 1942. Soon this new version replaced the older in production lines. The part of the production was shifted to other companies. The development continued from Ki-43-II Otsu to Ki-43-III. The different versions sported different shapes of cowlings, oil coolers and subsequently the armament was changed to heavier. Hayabusa soon became the most widely used fighter by IJAF. It fought from the beginning of the war up to its bitter end. Hayabusas were assigned to forty regular Sentais and twelve independent Hiko Sentais. Except of the latter, Hayabusas were used by the puppet state Manchukuo, Thailand and after the war by Indonesia, communist China and French Colonial Forces in Indo-China. Hayabusa was considered highly a dangerous opponent at the beginning of the war. This suspicion was confirmed when a seized example of Ki-43 was tested. Allied pilots were then warned not to try to dogfight Hayabusas and instead use hit and run tactics. In the mainland CBI area allied intelligence issued for Ki-43 recognition code name Jim. In South East Pacific area it was named Oscar and this name was officially accepted for Nakajima Ki-43 of all versions.
The Ki-43-II Otsu version model kit comes in four frames of plastic parts, one frame of clear parts, an instruction sheet in colour and with high-quality decals made by the Italian Cartograf. You can choose between four very interesting camouflages.
MARKETPLACE
This site contains affiliate links to products. We may receive a commission for purchases made through these links.
SPECIAL HOBBY 1/72 NORTHROP NOMAD MKI "RCAF & SAAF ATTACK BOMBER" KIT SH 72193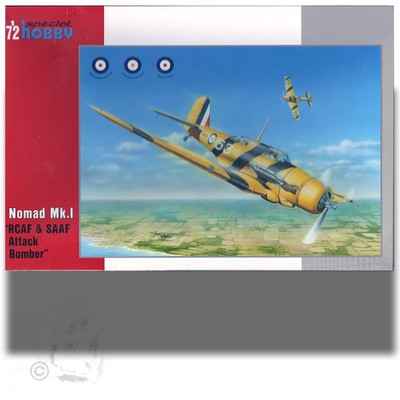 See on Ebay »
Shipping to: Worldwide
From: US-Mims,FL,USA
Store: fossileyes MODEL KITS
Modellino SPECIAL HOBBY 1/72ème Nakajima Ki-43-II Otsu Hayabusa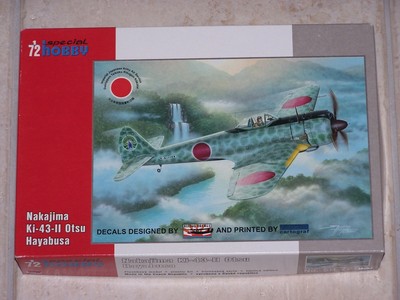 See on Ebay »
Shipping to: Worldwide
From: FR-France
Store: Maquettes et compagnie
Maqueta SPECIAL HOBBY 1/72ème Nakajima Ki-43-II Otsu Hayabusa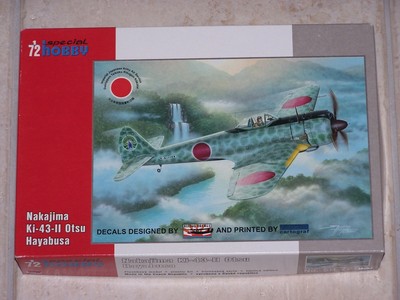 See on Ebay »
Shipping to: Worldwide
From: FR-France
Store: Maquettes et compagnie